Pro Bono Center Promotes Economic Recovery
September 29, 2020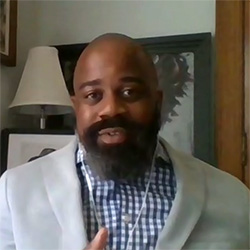 At Washington Economic Partnership's 2020 Retail Summit this September, D.C. Bar Pro Bono Center Assistant Director Darryl Maxwell spoke on a panel with other experts about Paycheck Protection Program (PPP) compliance for community nonprofits and small business owners. This outreach is part of the Pro Bono Center's ongoing effort to strengthen local organizations as they navigate the pandemic and an economic recession.
Over the summer, the Center guided nearly 200 nonprofits and small businesses through the PPP application process as part of its Financial Relief Brief Legal Advice program. Forty-two percent of those applicants were unaware of the PPP and other Small Business Administration relief programs before contacting the Center.
Maxwell and other Summit panelists advised PPP recipients on building the appropriate documentation for approval. "Meeting the assistance guidelines without in-house counsel is a challenge," Maxwell said. "Several organizations are working with us to ensure they keep all necessary records so they can successfully convert the aid they've received into a grant they do not have to repay."
The Center has worked with 135 volunteer attorneys in the District to help nonprofits and small businesses apply for and comply with financial relief. Clients complimented their volunteer attorneys' dedication, diligence, and expertise:
"Our attorneys were very helpful, they answered all my questions and followed up with additional information." – Nonprofit that serves people with intellectual and developmental disabilities


"I was able to realize through the briefing that [the business] may not have been eligible for the EIDL program. Our attorney was very nice and her briefing was very professional and candid." – Local small sustainable energy company


The two lawyers were knowledgeable and the information they provided was useful. Right on point. We received the loan and grant." – D.C. woman-owned consulting firm
Many organizations that received the PPP relief are now returning to the Center for help determining if their organizations qualify for partial or full forgiveness of the loan per the PPP guidelines. The Center predicts it will be offering legal assistance on financial relief issues related to the pandemic for months to come.