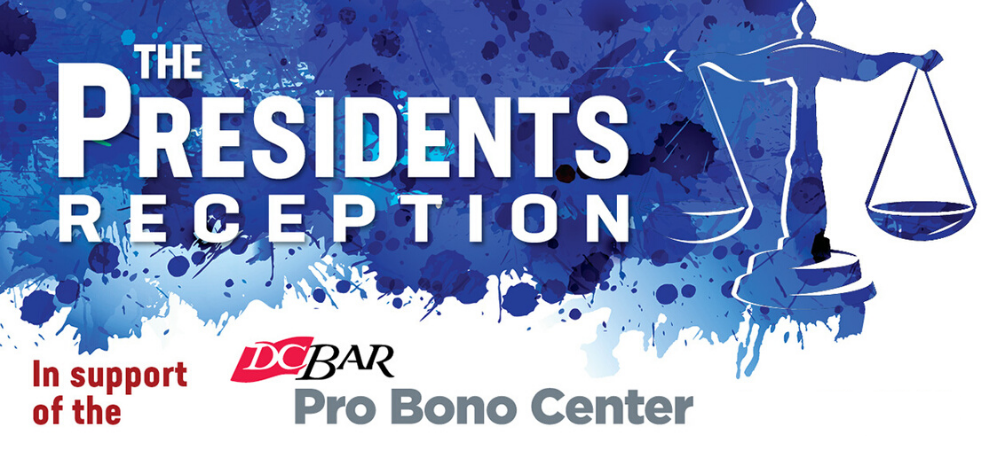 2020 Presidents Reception Honoring Geoffrey M. Klineberg
Join us for the virtual Presidents Reception on July 30, 2020, at 5:00 PM
The Pro Bono Center needs your support to meet the legal needs of low-income District of Columbia residents during the crisis and after the courts reopen.
Please make your annual contribution to help the Pro Bono Center continue to provide vital free legal services at this critical time.
Donate Now to the Pro Bono Center
Fulfill Your 2020 Presidents Reception Pledge
Pledges and contributions received by July 15, 2020, will be recognized at the 2020 Presidents Reception, on the D.C. Bar website, and in Washington Lawyer magazine.
---
About the Presidents Reception and D.C. Bar Pro Bono Center
Since 1993, past presidents of the D.C. Bar have hosted the Presidents Reception to honor the incoming president of the Bar and to support the D.C. Bar Pro Bono Center, the largest provider of pro bono legal help in the District of Columbia. With the support of our generous donors and dedicated attorney volunteers, we operate award-winning legal clinics, projects, and resource centers that serve more than 20,000 individuals, nonprofits, and small businesses each year.
Our work continues throughout the COVID-19 health crisis, as the Pro Bono Center's clients reach us online and through dedicated phone lines. We also are connecting D.C. nonprofits and small businesses with pro bono lawyers for remote client conferences to help them apply for government assistance programs and navigate tough decisions in the economic downturn.
This year, the Presidents Reception honors incoming D.C. Bar President Geoffrey M. Klineberg. For the first time, the 2020 Presidents Reception will be presented virtually.
Contributions and pledges of $250 or more received by July 15 will be acknowledged at the virtual reception, on the D.C. Bar website, and in Washington Lawyer magazine (distributed to more than 100,000 members of the Bar).
Individual Sponsorships

Benefactor
$5,000
Platinum Patron
$4,000
Pro Bono Partner
$2,500 or $1,500
Pro Bono Council
$1,000
Patron
$500
Platinum Sponsor
$400
Sponsor
$250

Law Firm & Corporate Sponsorships

Platinum Underwriter
$40,000
Underwriter
$30,000 or $20,000
Pacesetter
$15,000
Presidents Circle
$10,000
Benefactor
$5,000
Platinum Patron
$4,000
Patron
$2,500
Sponsor
$1,000
Now, more than ever, your Pro Bono Center contribution is vital. For more information about how you or your organization can sponsor the 2020 Presidents Reception and help ensure that access to justice is never beyond reach for our neighbors in need, contact Connie Sinclair at [email protected] or 202-780-2734.
Following the Presidents Reception, join the D.C. Bar at 5:30 p.m. for a virtual Celebration of Leadership Annual Meeting and Awards Presentation, honoring the extraordinary achievements of its members and welcoming its newly elected leaders. Learn more here.
The D.C. Bar Pro Bono Center is a charitable organization exempt under section 501(c)(3) of the Internal Revenue Code. All of the Pro Bono Center's services are made possible through voluntary contributions. No mandatory D.C. Bar license fees support the Pro Bono Center.