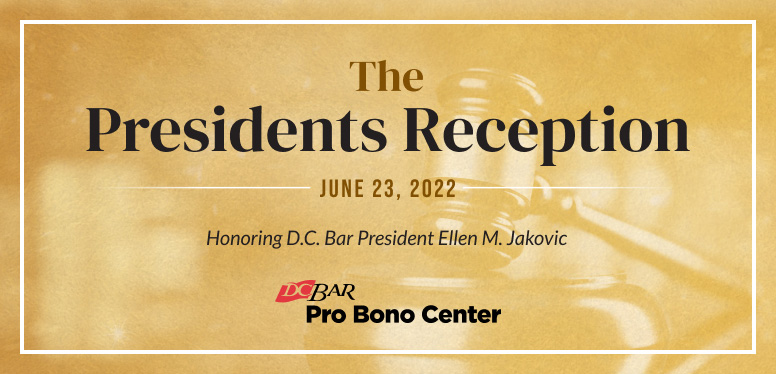 2022 Presidents Reception
In Support of the D.C. Br Pro Bono Center
Honoring Incoming D.C. Bar President Ellen M. Jakovic
6 – 7:30 p.m.
Renaissance Washington, DC Downtown Hotel
999 9th St NW Washington, DC 20001
Presidents Reception donors and sponsors: RSVP with the names of your guests by Friday, June 17. RSVP via email now or call 202-780-2734.
Since 1993, past presidents of the D.C. Bar have hosted the Presidents Reception to honor the incoming president of the Bar and to support the D.C. Bar Pro Bono Center, the largest provider of pro bono legal help in the District of Columbia. With the support of our generous donors and dedicated attorney volunteers, we operate award-winning legal clinics, projects, and resource centers that serve more than 20,000 individuals, nonprofits, and small businesses each year.
Donate Now to Honor Ellen M. Jakovic
This year, the Presidents Reception honors incoming D.C. Bar President Ellen M. Jakovic and will take place in person at the Renaissance Washington, DC Downtown hotel, following the 2022 D.C. Bar Conference.
Contributions and pledges of $250 or more received by Friday, June 3 will be acknowledged in the event program and on the D.C. Bar website. Contributions of $500 or more will also be acknowledged in Washington Lawyer magazine (distributed to more than 110,000 members of the Bar).
Law Firm & Corporate Sponsorships

Platinum Underwriter
$40,000

(20 tickets)

Gold Underwriter
$30,000 or $35,000

(10 tickets)

Underwriter
$20,000 or $25,000

(8 tickets)

Pacesetter
$15,000

(8 tickets)

Presidents Circle
$10,000

(6 tickets)

Benefactor
$5,000

(4 tickets)

Platinum Patron
$4,000

(3 tickets)

Patron
$2,500

(3 tickets)

Sponsor
$1,000

(2 tickets)

Individual Sponsorships

Benefactor
$5,000

(4 tickets)

Platinum Pro Bono Partner
$4,000

(4 tickets)

Pro Bono Partner
$2,500 or $1,500

(4 tickets)

Pro Bono Council
$1,000

(3 tickets)

Patron
$500

(2 tickets)

Platinum Sponsor
$400

(1 ticket)

Sponsor
$250

(1 ticket)

The fair market value of this event is $60 per person.
Now, more than ever, your Pro Bono Center contribution is vital. For more information about how you or your organization can sponsor the 2022 Presidents Reception and help ensure that access to justice is never beyond reach for our neighbors in need, contact Angela Boone at [email protected] or 202-780-2733.
Following the Presidents Reception, join the D.C. Bar at 7:30 p.m. for the Celebration of Leadership Annual Meeting and Awards Dinner, honoring the extraordinary achievements of its members and welcoming its newly elected leaders.
The D.C. Bar Pro Bono Center is a charitable organization exempt under section 501(c)(3) of the Internal Revenue Code. All of the Pro Bono Center's services are made possible through voluntary contributions. No mandatory D.C. Bar license fees support the Pro Bono Center.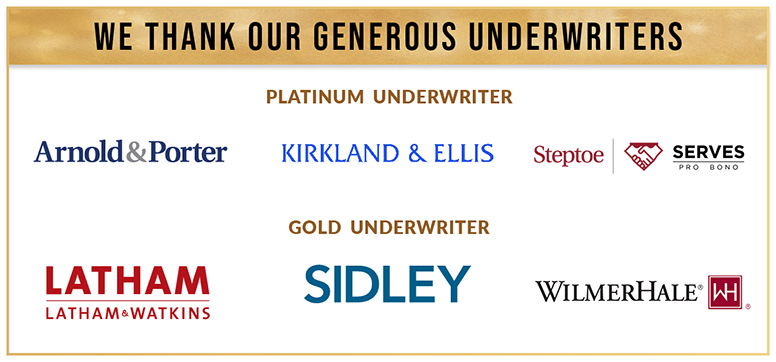 The D.C. Bar is committed to upholding the highest public health and safety standards. All attendees must be fully vaccinated against COVID-19 and must upload proof of vaccination via the ReturnSafe App 72 hours in advance. Guests must then check in via ReturnSafe before arriving at the Renaissance Washington, DC Downtown Hotel on June 23. Find ReturnSafe instructions here.