Attorney Discipline
Opinions and Reports
Recent Hearing Committee Reports
Frequently Asked Questions for the Public
What is the Office of Disciplinary Counsel?
The Office of Disciplinary Counsel (ODC) was created by the District of Columbia Court of Appeals to investigate and prosecute complaints of ethical misconduct against lawyers licensed to practice law in the District of Columbia who violate the D.C. Rules of Professional Conduct (RPC).
The Rules describe a lawyer's obligation to clients, the courts, and the general public in professional and private dealings. The purpose of this process is to protect the public by disciplining lawyers who violate the ethics rules. Our office cannot consider complaints against judges acting in a judicial capacity.
For additional information, see Purpose and Mission.

Can you represent me in court or give me legal advice?
The Office of Disciplinary Counsel cannot represent you, give you any legal advice, or change the outcome of a court decision.
The Office of Disciplinary Counsel cannot refer you to an attorney. You may consult the D.C. Bar Pro Bono Center to obtain information. The D.C. Bar Pro Bono Center sponsors a free monthly Advice & Referral Clinic, where you can speak with a lawyer at no charge to determine if you have a legal problem and possibly receive a referral to a legal or other service provider. For clinic locations and times, call the Legal Information Help Line at 202-626-3499.
Contact the D.C. Bar Pro Bono Center if you are an individual living in poverty who is at risk of losing your home, your livelihood, or your family. The Center also helps small businesses and community-based nonprofits needing legal assistance.
I am having problems with my attorney. What should I do?
Try to resolve issues with your attorney by communicating your concerns clearly and asking for a response. Your attorney should clearly explain the fee agreement and scope of representation, keep you aware of developments in your case, and respond to any reasonable requests you may have for information.

If you feel that your problem is the result of poor communication or a misunderstanding between you and the attorney, you should have an open talk with the attorney before you file a complaint.

Can you help me contact my attorney?
The D.C. Bar's Find a Member feature provides the same publicly available contact information for attorneys that we would be able to share with you. If you are still unable to reach your attorney, you may need to file a complaint with our office.
Is my attorney licensed in the District of Columbia?
The D.C. Bar's Find a Member feature enables a search of all attorneys licensed to practice law in the District of Columbia. If an attorney is not listed as authorized to practice law and is advising you about D.C. law or representing you in Superior Court, please contact the Office of Disciplinary Counsel.
View All
Frequently Asked Questions for Lawyers
How do I file for reinstatement?
If you are not required to prove fitness or satisfy other terms prior to reinstatement (i.e., restitution or some other condition imposed by the Court), please contact the D.C. Bar Membership department. If you were disbarred or suspended with a fitness requirement, you must file a petition for reinstatement and a reinstatement questionnaire (found in the forms and documents section). See Board Rule 9.1.
Can I e-file with the Board Office?
No, we currently do not have an e-filing system. All filings should be made in hard copy, including one with an original signature. Please consult the Board Rules to see additional requirements for each type of filing.
How do I file a complaint against an attorney?
Complaints must be filed, in writing, with the Office of Disciplinary Counsel. A complaint form can be found under the How to File a Complaint section.
Where can I find the Board Rules?
How can I volunteer in the disciplinary system?
The Board is currently recruiting attorneys and members of the public to be considered for appointment to Hearing Committees. For more information, or to apply to be a Hearing Committee Member, please contact the Office of the Executive Attorney.
View All
Contact Us
Board on Professional Responsibility
Phone: 202-638-4290
Fax: 202-638-4704
Office of Disciplinary Counsel
Phone: 202-638-1501
Fax: 202-638-0862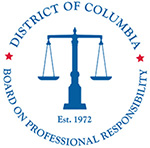 Board on Professional Responsibility
430 E Street NW
Suite 138
Washington, DC 20001
Phone: 202-638-4290
Fax: 202-638-4704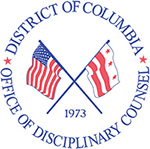 Office of Disciplinary Counsel
District of Columbia Court of Appeals
515 5th Street, NW
Building A, Suite 117, Washington, DC 20001
Phone: 202-638-1501
Fax: 202-638-0862