D.C. Legal Community Comes Out in Force to Support Access to Justice Initiative
April 18, 2023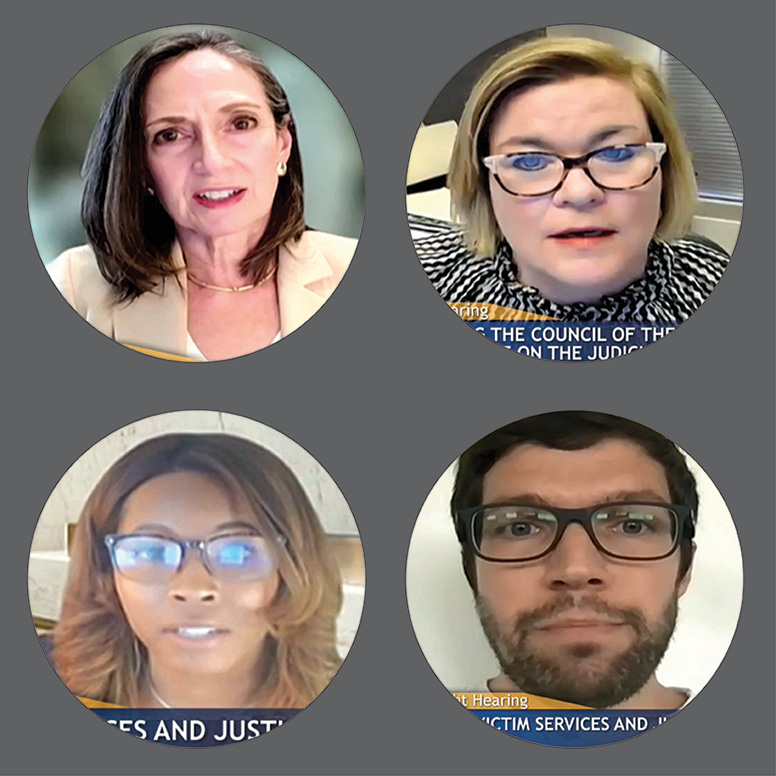 Clockwise from top left: D.C. Bar President Ellen Jakovic, Nancy Drane of the Access to Justice Commission, Advisory Neighborhood Commissioner Peter Wood, and Gabriella Lewis-White of the D.C. Bar Pro Bono Center.
Legal services providers, advocates, and other community members rallied in support of Washington D.C.'s Access to Justice Initiative at a D.C. Council Committee on the Judiciary and Public Safety hearing April 13, urging the District's legislative body to preserve funding at fiscal year 2023 levels.
Mayor Muriel Bowser's proposed 2024 budget would slash the initiative's funding nearly 60 percent — from $31.7 million to $13 million — drastic cuts that would be "catastrophic for District residents," D.C. Bar President Ellen Jakovic said in her testimony before the committee.
Thousands of Washingtonians rely on programs supported through this funding for help with eviction, foreclosure, domestic violence, family law, and other challenges they would otherwise face with no guidance. "These cuts will put the safety, health, housing, and economic stability of some of the District's most vulnerable people at risk, placing them even further in jeopardy," added Jakovic.
In a statement released immediately after the mayor's budget proposal was made public, the District of Columbia Access to Justice Commission said the proposed cuts would have "catastrophic consequences" for residents who require legal assistance for issues such as health, housing, economic stability, and general safety. "These services matter to clients," Access to Justice Commission Executive Director Nancy Drane told the committee.
In a letter to the D.C. Council, Jakovic, D.C. Bar President-Elect Charles Lowery, and 30 former Bar presidents joined the commission in calling for the restoration of the initiative's funding to $31.689 million:
"Without the civil legal aid necessary to help District residents navigate complicated issues and secure protections, our community's challenges almost certainly will increase as unaddressed legal problems spiral into additional crises. Often, the consequences of these unmet needs ultimately will be borne by the government. Having an effective program like the Initiative that can provide assistance early in the legal process is good for the community and relieves the burden on government institutions."
As one of the more than 90 witnesses who testified during the hearing, Jonathan Smith, senior special counsel for the Washington Lawyers' Committee for Civil Rights and Urban Affairs, echoed the letter's sentiment. "Legal services pay for themselves," he told the committee. "It's a very strong investment."
According to Gabriella Lewis-White, pro bono legal services director at the D.C. Bar Pro Bono Center, the need for civil legal services for eviction defense and other housing legal issues is greater than ever for low-income District residents. Citing D.C. court records, Lewis-White said eviction filings rose 42 percent from the first quarter of 2022 compared with the same period in 2023 , threatening the ability of thousands of Washingtonians to remain in their homes.
"This is an opportunity for the Council to show up for our neighbors who need us most and [to] demonstrate that this city cares about every resident's access to basic human needs such as safe, affordable housing," Lewis-White testified.
Peter Wood, an Advisory Neighborhood Commissioner in Ward 1, agreed. He said he understands the need for budget compromises but believes cutting the Access to Justice Initiative's funding is the wrong decision.
"Sadly, not every worthy investment can get the funding needed every year," Wood said. "Sometimes compromises are necessary. But to disproportionately put the burden of those compromises on service providers who directly and immediately keep people safe from harm is both immoral and fiscally irresponsible."
Amy Nelson, director of legal services at Whitman-Walker Health, issued a stark warning to the Council about what the city would face if the proposed cuts become reality. "D.C. residents are not prepared for a 60 percent budget cut in these life-saving services, especially as we approach the end of the federal public health emergency," Nelson said.
As the hearing drew to a close, D.C. Councilmember Brooke Pinto, who chairs the committee, expressed her support for the Access to Justice Initiative, although a final resolution remains pending.
"Thank you to all of the witnesses on this panel," Pinto said. "Thank you all for the work that you do, and we're going to do everything we can in the next several weeks to try to restore some funding."