Conference Panel Reiterates Need to Prioritize Access to Justice
May 02, 2023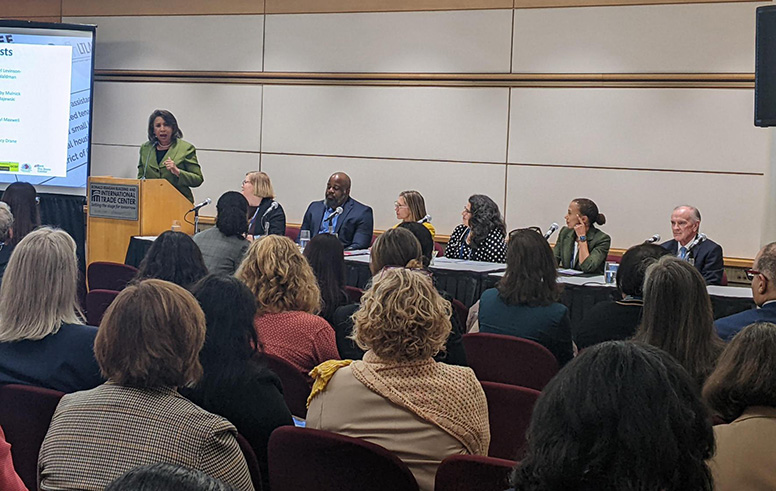 D.C. Court of Appeals Chief Judge Anna Blackburne-Rigsby (far left) opened the access to justice panel at the Judicial & Bar Conference on April 28.
At a crucial moment when the need for affordable legal services continues to rise, a panel of the District of Columbia's top advocates of legal services met to discuss the importance, the challenges, and the future of access to justice in Washington, D.C.
Lack of access to legal services affects everyone, but those on the lower end of the socioeconomic spectrum often struggle to find the resources they need at the most critical moments of their lives, said D.C. Court of Appeals Chief Judge Anna Blackburne-Rigsby as she introduced the panel at the Judicial & Bar Conference on April 28.
A critical gap exists even in Washington, D.C., where the local legal community highly values and emphasizes the importance of pro bono work, the chief judge said. "We see it on the Court of Appeals. Far too often, people are trying to navigate their civil cases that are life-changing matters to them — custody of their children, possession of their homes, debt collection, you name it," she added.
And it's not a system designed to be accessible to the uninitiated. James Sandman, president emeritus of the Legal Services Corporation, said those who represent themselves in the labyrinthine civil courts system without legal training face insurmountable challenges.
"It's a system that was created by lawyers, for lawyers, on the assumption that everybody's got a lawyer," said Sandman, who serves as vice chair of the D.C. Access to Justice Commission. "If you don't have a lawyer, it's opaque, confusing, hostile — anything but user-friendly."
Often the cases involved are important matters with high stakes, he continued. "I'm not talking about traffic ticket cases. I'm talking about cases that involve the most basic of human needs," Sandman said. "A roof over your head. Protection from wrongful evictions and foreclosures. The stability of families — child custody, child support, guardianships, adoptions, personal safety, protection orders against abusers, economic subsistence. Those are the cases where so many people don't have lawyers."
Federal poverty guidelines compound the issue. Programs providing free legal services often cap at 125 percent to 200 percent of the poverty line, leaving a large gap of people living on low to moderate incomes who don't qualify for aid, but still can't afford to hire an attorney at typical rates.
This is further exacerbated by Washington, D.C.'s high cost of living, where even those living at 200, 300, or even 400 percent of the poverty line still struggle to meet their family's needs. A single parent with one child making $39,000 per year may be at 200 percent of the federal poverty guidelines for a household of two, said DC Affordable Law Firm Executive Director Gabby Mulnick Majewski. "But that's insufficient to meet even their most basic needs, let alone access legal resources."
Citing MIT's Living Wage Calculator, Mulnick Majewski said a single parent of one child in the District must earn $42.61 per hour (or $88,629 a year) for a living wage. "That figure is substantially higher than the $39,000 baseline for 200 percent of the federal poverty level, and that's considered modest income. And these are the clients who are seeking representation through the DC Affordable Law Firm," she added.
Sandman believes this is a solvable problem. The long-term solution, Sandman said, should focus on four points: regulatory reform, which could potentially allow well-trained nonlawyer legal professionals to assist those in need; a simplified court system that addresses how the landscape has changed since the current system was created; democratization of legal processes through technological tools such as ChatGPT; and bringing new people with different perspectives to the table.
But in the meantime, more immediate challenges loom. Mayor Muriel Bowser's proposed 2024 D.C. budget puts the future of free and affordable legal aid in further jeopardy. Her proposals include nearly 60 percent in cuts — from $31.7 million to $13 million — to the D.C. Access to Justice Initiative, which funds multiple legal services providers and pro bono programs across the District.
With the D.C. Access to Justice Commission leading the charge, legal services groups are urging the D.C. Council to restore funding to the Access to Justice Initiative to its 2023 level. Despite this precarious situation, the commission's executive director, Nancy Drane, remains optimistic about the future.
"We have an incredibly robust network of legal services providers," she said. "They are skilled, they are motivated, and we are lucky to have such a vast network here in the District."
Darryl Maxwell of the D.C. Bar Pro Bono Center agrees. "The District has [more than] 700,000 residents," Maxwell said. "In this area, there are more than 80,000 lawyers. So, when you think about it, our goal should be to activate all of them."