By David O'Boyle
January 8, 2018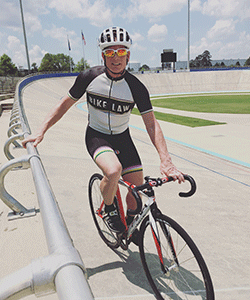 With members in all 50 states and more than 80 countries, the D.C. Bar is beginning a regular feature to profile the people who make up our community. Read about your peers, their lives, and their work around the world.
Bike Law attorney Timmy Finch is anything but hesitant when confronting challenges. His typical response is a quick "Yes, and . . ." as he gets to work exploring where the road will take him.
Did he at one point work as a bike messenger in D.C. delivering packages for the city's movers and shakers? Yes, and he also worked in a bike parts factory. And later toured the country as a professional improv actor. And prosecuted violent crimes against women.
Today Finch represents clients injured in bike crashes and advocates for cyclist-friendly traffic laws.
Shortly before graduating from college, Finch recalled seeing a group of bike messengers near Baltimore's Inner Harbor. "I thought that being a bike messenger looked like an amazing experience. Those guys—they're free."
A native of Silver Spring, Maryland, Finch spent his childhood days riding his bike through downtown D.C. and the surrounding suburbs. He knew the streets of D.C. well. While searching for a career after finishing college, Finch took a job as a bike messenger, shuttling documents for businesses. Finch says that becoming a bike messenger returned him to a "feeling of fearlessness and excitement."
Moving back and forth across the country, Finch continued as a bike messenger in the cities he lived in, in addition to working in a factory that produced bike parts and racks, and writing.
In Charleston, South Carolina, Finch tried out improvisational comedy, forming a group with two friends called The Have Nots! The group toured the country, performing on college campuses.
"We had a van, and we toured like a band tours," says Finch.
The group started a theater in Charleston, called Theatre 99, and enjoyed success for a decade. But the rising popularity of the city led to increased rents, and the group lost its lease. While searching for a new theater, Finch says, he "started to think about the future, and it drew into focus for me that, while the performance lifestyle is great, it's also fragile."
At 36, Finch wanted a stable and reliable career. "I thought maybe I could get into the business of building bikes or even being a carpenter. But what happens if I can't do those jobs anymore?"
Finch knew that if his body broke down, he would still have his mind, so he "invested in his mind" by choosing to pursue a law degree at the Charleston School of Law.
"I didn't have any concrete plans. I just went to law school to see where it would take me," says Finch. "I knew that a law degree wouldn't close any doors."
After graduating, he took a job as a prosecutor for the Ninth Circuit Solicitor's Office where he primarily tried cases involving violent crimes against women. Finch says these cases showed him "how incredibly normal I am." When he thought about his own life—his travels across the country, his time as a bike messenger—he would see the terrible things that people were doing and think, "I'm just a normal guy getting by."
Finch spent just shy of five years at the Solicitor's Office before he was approached by Peter Wilborn, founder of Bike Law, to join the network of independent law firms and lawyers who focus on representing and advocating for cyclists.
While he loved his work as a prosecutor, Finch couldn't pass up the opportunity to work as a personal injury attorney representing clients he was familiar with, who had lifestyles and backgrounds similar to his own. Finch says that joining Bike Law allows him to combine his law degree and his passion for cycling to help other cyclists.
Finch and Wilborn are expanding their practice into D.C., with plans to open an office in early 2018.
Finch wants to use his work at Bike Law to change the perception of cyclists and help the cycling community be treated more fairly by the legal system, especially after an accident. He says he has seen too many friends hit by cars, and was hit himself while working as a bike messenger in the District.
"I was riding home to Georgetown from Dupont Circle, and a guy turned left in front of me, making an illegal U-turn," says Finch. "I hit his car and flipped over it. It messed up my bike, and it messed me up a good bit."
Finch says he tried to stop the driver by standing in front of his car, but the driver began to drive away, forcing Finch to jump onto the car's hood and off again to avoid being run over.
When Finch went to get the accident report, the police told him they found no one at fault for the accident, and that he had scared the driver. "I asked, Why was the driver afraid of me? Was he afraid that I was going to bleed on him?"
His experience, and the experiences of his friends, have always struck Finch as unfair. "You realize that for some people, biking isn't for recreation; it's how they have to get around." Through his work at Bike Law, Finch says he is embracing the opportunity to advocate for cyclists' rights, especially for people who rely on their bike to get to work, to run errands, or to pick up their kids from school.
Without proper protections, both on the road and in the legal system, cycling can be risky. "It becomes a matter of life and death," says Finch. "And a life-and-death matter when nobody is on your side is terrifying. This is an opportunity to be on those people's side, and I like that a lot."