By Debra Bruno
September 5, 2017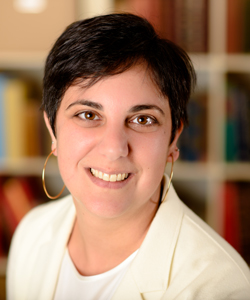 With members in all 50 states and more than 80 countries, the D.C. Bar's Member Spotlight regularly features the people who make up our community. Read about your peers, their lives, and their work around the world.
Not that there's anything wrong with a Ph.D. in philosophy from Columbia University, followed by tenure-track offers at schools. But for Sirine Shebaya, today a senior staff attorney with the advocacy group Muslim Advocates, the life of an academic felt a little too theoretical. About halfway through her program, she says, "I realized I actually wanted to be working with people and having an immediate impact."
That realization didn't stop Shebaya, today 38, from finishing up her degree and looking for jobs, in part because a job offer would help the native of Beirut stay in the United States. And while the offers came in, she says she thought, "In 10 years if I was just a philosophy professor, would that be satisfying?"
Still searching, Shebaya became a Greenwall Fellow in Bioethics and Public Policy at the Johns Hopkins Berman Institute of Bioethics. From that fellowship, Shebaya realized that she really wanted to go into law: "It is intellectually rigorous, but it also impacts people directly and allows you to create change in the world," she says.
At Yale Law School, she further narrowed her focus. Her initial interest in human rights and international law drew her to work for the Iraqi Refugee Assistance Project, today called the International Refugee Assistance Project, plus a human rights clinic, a workers' and immigrants' rights clinic, and a civil rights and national security clinic.
With all that – including one immigration case she had the chance to argue as a law student intern before the Connecticut Supreme Court – she decided her mission was "to identify voices that are marginalized and try to work to give access to those voices, and to help the people who are outsiders but who are really impacted by insiders' decisions," she says.
Working first at the ACLU of Maryland (during the Obama administration, from 2012 to 2016), she says she developed an interest in immigrants' rights, particularly in immigration enforcement. "There were Fourth and Fifth amendment problems when local jails detained people for ICE [Immigrations and Customs Enforcement] without a warrant," she says. One success for Shebaya and her colleagues was convincing Maryland, with the support of then-Gov. Martin O'Malley, to adopt a statewide policy against detaining people for immigration violations without a judicial warrant, she says. (See the most recent advisory from the Maryland Attorney General on enforcing federal immigration law.)
Before that, she says, many people were ending up in the "deportation pipeline" after being stopped for having a broken taillight or selling phone cards without a license.
Shebaya also worked briefly as director of the Virginia Justice Program for the Capital Area Immigrants' Rights (CAIR) Coalition.
After President Trump instituted the first round of his travel ban shortly after taking office in January 2017, Shebaya decided to take her two young sons, including an infant of four months, and her husband, to Washington Dulles International Airport to offer legal help to foreigners who might have been affected by the ban.
She stayed at the airport that day until 1 a.m., trying to get access to U.S. Customs officials. She ended up on the phone with a Yemeni father in Michigan who was trying to bring in his two sons on immigrant visas (Dulles was their first stop in the United States). By the time the legal aid center had convinced a judge to allow lawyers to have access to people who were lawful permanent residents, the brothers had been sent back to Yemen.
"We had a group of really great folks from big law firms to help place cases with pro bono teams," she says, in addition to a number of immigration attorneys. Today, Shebaya is a board member of the Dulles Justice Coalition, which was formed in response to the initial travel ban.
Since May, Shebaya has worked at Muslim Advocates. "The main thing that has compelled me is this is the community that has for so many years been the subject of targeted attacks," she says. "But now, they're being attacked in ways that are so egregious and so personal, that I wanted to contribute to the community being able to fight on its own behalf."
She points out that the group prides itself on fighting for civil rights for all Americans. "We're grounded in the Muslim community, but also the broader south Asian community and the Arab community and other communities of color," she says.
Some of the issues on her agenda began long before Trump was elected. "Obama deported more people than any other president," she notes. Now, though, there is a rising awareness of civil rights issues.
Asked if she feels hopeful about the future, though, and she gives a careful answer. "There are parts that make me cautiously optimistic, and parts that make me feel very pessimistic," she says. "It's wonderful to feel people are activated and that community groups that don't always have the mainstream stage are speaking up."
But, she adds, "there are some insidious changes at the agency level" of the federal government "that we may not be able to correct."