By David O'Boyle
September 18, 2017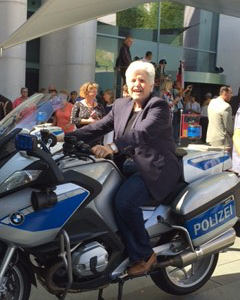 With members in all 50 states and more than 80 countries, the D.C. Bar is beginning a regular feature to profile the people who make up our community. Read about your peers, their lives, and their work around the world.
During the height of the AIDS crisis, attorney Michele Zavos began working in the LGBT community, sometimes meeting her clients in the hospital. "I would go into hospitals and see men who were dying of AIDS, and the first thing I'd do was shake their hand," says Zavos, now managing partner and founder of Zavos Juncker Law Group, PLLC. "This was at a time when HIV wasn't completely understood, when nurses sometimes wouldn't bring food in to a patient's room because they were afraid of touching the patient."
That compassion is evident throughout Zavos's career working at the forefront of LGBT issues and family law. Over the years, Zavos has witnessed monumental societal change, and here she discusses with the D.C. Bar her experiences and passion for the law.
What different types of work have you done since you started your legal career?
While I was in law school, I worked for the ACLU National Prison Project, and I did legal services work through the clinic at Catholic University's law school.
After finishing law school, I worked for Georgia Legal Services for a short time, did prison work in Baltimore for about two and a half years at Maryland Legal Aid Bureau, Inc., and clerked for Judge Gladys Kessler when she was on the D.C. Superior Court.
In about 1983, I worked for a small firm where I started to do work in the LGBT community.
How did you first get started in LGBT legal work?
I am a lesbian, and I had friends who needed legal assistance. Also, I was one of the first volunteers with the Whitman-Walker Clinic doing AIDS work. Ultimately, it was a natural fit.
After a couple of years at a small firm, I opened a firm with one of my law professors from Catholic University. We were working at the height of the AIDS crisis, representing a lot of individual clients who often needed estate planning assistance. We worked on any issues that came through our door at the time.
Tell us about some of your experiences in those early days.
We were some of the first people to advertise in the Washington Blade . . . Our firm represented everybody. Obviously, we knew the LGBT community better than most. At the time, I represented a number of Republican gay men who were dying in hospitals, whose families wouldn't let them see their lovers.
I also worked with the D.C. Council on HIV-related legislation. There was a lot going on at the time around AIDS, and protecting LGBT families. It was a difficult and exciting time. I tried, and still try, to be the kind of lawyer who connected with my clients—that's really important.
Did you have any particularly challenging cases at the time?
There were so many challenging cases. I had a case in 1982 in which the military tried to court martial a colonel who was gay. The partner I worked for at the time and I were able to get the military to allow the colonel to retire after 30 years of service.
There are many stories like that throughout my career, and they are part of what has kept me going. My work is not just about gay people—it's about anybody who is trying to protect their family, trying to figure out how to have the law work for them. I have worked on many interesting cases at the cutting edge of what our society defines as a family.
What motivated you to open a firm with your former law professor?
I was having a child, and somehow I thought I'd have more control over my life if I had my own law firm. That idea is funny from this point, looking back. Fortunately, it turns out I like the business of running a firm and building a business, and I had more freedom that way.
I left the firm in 1990, and I was a consultant with the ABA for about six years. It gave me much more flexibility to be with my daughter. I still worked full time, but I could essentially have my own schedule.
What brought you back to opening your own firm?
While I was at the ABA, I began to miss representing clients. I decided that I would work with clients out of my house, and I would meet with people in their homes, which was a great way to have a law practice.
I'd sit in someone's living room, and their cat would be sitting on their lap, or their dog would come over, or you'd hold their kid.
My practice kept growing. When my daughter went off to college, it was as if my practice doubled overnight. I had to decide whether I was willing to cut everything back and still work out of my home, or to take an office and expand the practice, [which is] what I did.
What types of cases are you handling now?
I had a couple of cases involving same-sex couples in which one had adopted the other. Now, with marriage equality, the couples wanted to end the adoption and get married. I had three of those cases in D.C. and in Maryland. We were able to come up with a strategy in a way that no one else would have thought of, and were successful in all three. All three couples got married. Those were terrific.
I do a lot of assistive reproductive technology and establishing legal rights for families for female couples or a single gay man using surrogacy. I represent a fair number of clients from Europe who are doing that.
I also worked on a three-parent judgment on parentage between a man and a lesbian couple. All three were ordered to be on the birth certificate. That was amazing.
What are the top lessons you have learned from opening and running your own firm?
It's always harder than you think. It will be more fulfilling than you think it will be. Having your own law firm also allows you to create the culture in your firm regarding your colleagues and your clients. That is important.
At our firm, my mother, who is almost 93, bakes cookies that we put out for our clients. It's cute when clients come in and they see the cookies. I've had a client say to me, "I've never been to a lawyer before, but when I saw those cookies, I thought, Maybe it would be okay."
I have loved being a lawyer, and I love being a lawyer. I love working with clients and solving problems for them in a compassionate and ethical way. I can't imagine doing anything else, which is a good thing because someday I'll retire, and I'm not starting another career.