By William Roberts
February 6, 2017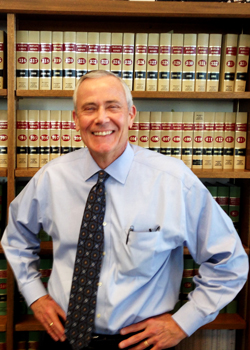 With members in all 50 states and more than 80 countries, the D.C. Bar is beginning a regular feature to profile the people who make up our community. Read about your peers, their lives, and their work around the world.
Montgomery County Circuit Court Judge Harry C. Storm, a D.C. Bar member and former principal in the Bethesda law firm Lerch, Early & Brewer, Chartered, currently serves as president of the Maryland State Bar Association. Storm grew up in Frostburg, Maryland, and attended the University of Baltimore School of Law. In an interview with the D.C. Bar, Storm covered a range of topics, including his view from the bench, advice to young lawyers entering the profession, and the importance of civility in the practice of law.
Is it true you were once a police officer in Ocean City?
A lot of my friends from college either worked on the beach patrol or with the Ocean City Police Department. At the time they hired like 80 summer cops to supplement the full-time force because of the huge increase in summer population. I did the summer between college and law school, and then went back after the first year of law school. It was great experience.
You started your legal career in Baltimore. What was that like?
I was with [the] firm . . . Melnicove, Kaufman & Weiner. We were representing Governor Marvin Mandel at the time in his criminal case, so it was an exciting place to start. After two years I came back to Montgomery County, ended up in the State's Attorney's Office for a couple of years. Then I was with a firm in Bethesda when the firm started representing this trade association of service station dealers. I was going to be the grunt that dealers could call with questions. When the firm broke up, I continued to represent the association.
You got involved in the bar association early as a young attorney. Why?
It was a great way to not only make connections with people who were going to be my colleagues, but to initiate myself into the profession. The people who I met early on through bar activities have stayed close friends. It has been a great part of my career.
What's it like transitioning from private practice to judgeship?
There's been a learning curve. I have spent the first year mostly on family law issues, and I didn't practice family law. It's been invigorating, challenging, and reenergizing to learn an area of the law you didn't know before. You encounter all the same evidentiary issues. I feel pretty comfortable with it now after a year.
Does watching lawyers perform in court give you a different view of the profession?
It's very different seeing things from this side of the bench. There's a wide range of experience with respect to the lawyers who come before you. You have younger lawyers and the more seasoned practitioners. My experience has been very positive. I feel good about our system. There is certainly still an unmet need for legal services, especially in family law. We do have a lot of unrepresented litigants. It is not uncommon to have one or both of the parties unrepresented. That presents challenges. It's new adventure every day. You've got police officers coming in on search warrants, motions to deal with, and just a wide variety of decisions to make.
What is the Maryland Bar doing about access to legal services and what needs to be done in terms of providing resources?
It's a constant struggle in terms of finding ways to match lawyers with those who are in need of the services. We're continually looking at ways to deal with that issue. In Maryland we have any number of legal services providers, organizations providing pro bono legal services to those who can't afford it. We have a 50-hour aspirational goal; every lawyer has to provide at least 50 hours of pro bono service.
Any advice for attorneys interested in becoming a judge on how to become a judge?
One of the best things that you can do is be very active in bar activities because I think it is very important for people who have an interest in becoming a judge to be well known within the legal community of the place where they want to become a judge. So the lawyers know them — get to know their temperament. It's important for a judge to be respectful of the parties and the lawyers. Temperament and a display of civility and impartiality are important attributes. Ultimately our selection process involves getting through a nominating commission. I interviewed with 15 different local bar associations that have committees to look at prospective judicial candidates, all of which then report to the commission with their view of the candidate.
You mention temperament. You've spoken before about the importance of civility. What is required of a judge these days in terms of temperament?
It's something that I have tried to impress upon everyone. You can be disagreeable with your opponent even in the litigation context, but it's important to remain civil to each other and it is particularly important for the lawyers to maintain a level of civility to each other in the face of warring. Our state bar has a code of civility and I keep that displayed in my office.
Do you have much interaction with the other judges at the courthouse?
Our Administrative Judge John Debelius gets us together regularly. We have doughnuts every Friday morning, a brown bag lunch on Tuesdays, a retreat every year. We try to get together as much as we can, but there will be weeks where I hardly see anyone. I'll spend the whole day in the courtroom, eat lunch in chambers, and don't leave until I walk out the door. It's different from being in a law firm. One of the things I do miss about private practice is the interaction with all of my friends. I had the fortune of practicing with wonderful people for many years.
Do you think the Uniform Bar Exam should go national?
That is something we are looking at now. Chief Judge Mary Ellen Barbera has appointed a committee to look at whether we should adopt it here in Maryland. I predict ultimately it's going to go that way. It makes it easier for new practitioners to move from state to state. Anything we can do to help improve the employment prospects of new lawyers, that's a good thing.
Any advice for young lawyers coming up through the ranks?
Work hard. Stay focused. But also be sure to allow enough time to devote to your family and time for yourself. Exercise is one of the best ways to really keep your sanity.