By David O'Boyle
November 27, 2017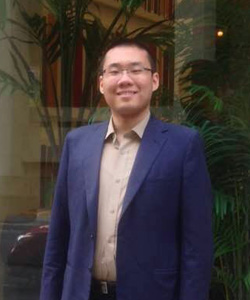 With members in all 50 states and more than 80 countries, the D.C. Bar is beginning a regular feature to profile the people who make up our community. Read about your peers, their lives, and their work around the world.
Jones Day associate Jim Wang has been a citizen of multiple countries—China, Canada, and the United States—but it is his American citizenship that he is most proud of. Wang was sworn in as U.S. citizen about a month prior to the 2008 election
"I wanted to be able to vote in what I believed was a historic election," says Wang. "I felt that I had found a home in a country that values a belief I identify with—that a democratic system of government is the best way to run a country." That admiration for the country's political and legal systems led Wang to pursue his U.S. citizenship.
Wang recalls how he felt casting his first presidential vote for Barack Obama in 2008: "I was excited to vote for a president who I felt broke down a lot of barriers, especially as someone like myself who is a minority."
Born in Shanghai, Wang moved to Canada at six years old when his father pursued his medical degree just outside of Toronto. A few years later, Wang's family settled in Pittsburgh, Pennsylvania, where his father worked through his residency program. After high school, Wang stayed in the city to attend Carnegie Mellon University for his undergraduate studies.
While his parents wanted him to become a doctor, Wang realized during his first year at Carnegie Mellon that a career in the hard sciences was not going to make him happy, leading him to discover a passion for the humanities. Wang went on to study psychology and decision sciences.
Typically, Wang says, a degree in these subject areas often leads to a career as a psychologist or consultant, but he wasn't interested in those career paths. "I wanted to keep doing what I had found I loved in my undergraduate studies, which is deep thought analysis of complex issues and persuasive writing," says Wang. "And that's what led one of my academic advisors to recommend I consider law."
Wang took his advisor's recommendation to heart and found that he loved learning about the U.S. legal and political systems, which are drastically different from those in his birth country.
After graduating from Carnegie Mellon, Wang traded Pittsburgh for Boston, where he attended Harvard Law School. Wang says he chose Harvard because "the law is about being part of a community and being able to share ideas. Going to Harvard allowed me to meet a lot of future leaders in the field."
Upon finishing law school, Wang accepted a position at Jones Day as an associate. The firm has a policy that allows first-year associates to sample different practice areas to help them discover what they were most interested in. Wang took on cases and projects in antitrust, patent litigation, trademark, and white collar defense. But one practice area stuck out for Wang—tax.
"I wanted to find an area of the law where there were rules, and if you understood and worked through the rules, you got the right answer," says Wang.
Working with the tax team at the firm, Wang found he enjoyed the collaborative nature of the practice area and that it was not fundamentally antagonistic.
"I like that my practice area generates ways to make clients more profitable—to optimize their taxes rather than preventing them from paying damages," says Wang. "I like that clients are happy to talk to us because we can save them money."
Outside of his tax practice, Wang is a regular volunteer and co-coordinator for Jones Day's involvement with the D.C. Bar Pro Bono Center's Landlord Tenant Resource Center, assisting customers with pending housing issues, including those with current court cases. Wang also is involved with the Housing Right to Counsel Project, which provides representation to individuals living in subsidized housing who are facing eviction.
"Losing a place to live is a drastic result that significantly impinges on your ability to enjoy your life," says Wang.
One of the most rewarding pro bono cases Wang has worked on involved a client who was charged a variety of fees by her landlord that she was unable to pay. "We were able to show that a lot of the fees were charged by error or were illegal," says Wang. "We were able to get her case settled for $75, when they had originally alleged the total was in the thousands of dollars, which was unpayable for her. It was a great result, and highly rewarding."