October 30, 2017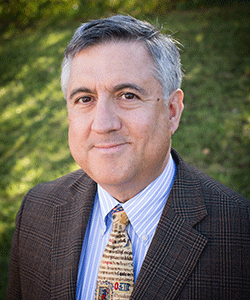 With members in all 50 states and more than 80 countries, the D.C. Bar is beginning a regular feature to profile the people who make up our community. Read about your peers, their lives, and their work around the world.
When Jeff Feinstein thinks of his job as a history teacher in a Fairfax County, Virginia, high school, he imagines himself as a trial lawyer. "My job is to persuade my students that what they're doing is important and that their time in class is important," he says. After all, he believes a lawyer's job is "not to argue but to persuade."
Feinstein should know. The West Potomac (Alexandria) High School social studies teacher started his career as a lawyer. One of his first positions was assistant district attorney in Brooklyn. He moved to the U.S. Department of Justice and the Federal Trade Commission in D.C., doing legal work for almost 20 years, until he decided it was time for a change.
He remembers thinking, "This legal stuff's not working out." He loved research, considered becoming a librarian because he loved looking things up, but then, he says, he realized what he really loved was helping people do things. "I investigated getting a master's in public administration," he says, "but then I thought, What about teaching?"
That worked out. Today, Feinstein teaches history, government, geography, and economics at the high school and spends four evenings a week teaching adult education in Fairfax County as well.
His history lessons extend beyond the walls of the classroom. Last year, Feinstein took a group of his history students to the Robert Russa Moton Museum in Farmville, Virginia, the site of a former segregated school and also the place where students in 1951 staged a strike that led to Brown v. Board of Education and the eventual end of "separate but equal" schooling in this country. The students heard from an older black man who shared his experiences growing up in a segregated school system.
"Based on the student reaction, this was the most impactful lesson we taught all year," Feinstein wrote in an article about the trip.
Henry Drembus, a senior at West Potomac who took Feinstein's AP U.S. history course last year, says what he remembers is that Feinstein wanted the students to understand that history was about more than just "the role of white men." The class would look at women, Native Americans, and African Americans in American history as well. "That was nice—to go outside of what we were learning," Drembus says. In fact, Feinstein was his favorite high school teacher.
It's one of the reasons Feinstein went into teaching. He remembers that his mentor from teacher training told him, "Every move you make in the classroom is purposeful. Nothing is random."
"That just focuses me on the task," Feinstein says.
For Feinstein, that task also often involves war stories drawn from his years in New York with the district attorney's office—with work on contract killing cases and other grisly crimes—and in the New York City Department of Investigation, where he investigated corruption in the city's sanitation department and health department restaurant inspections.
One of his most powerful memories from that time was a robbery case. The woman being robbed looked at the young man, who had not concealed his identity, and said, "Billy, why are you robbing me?" In other words, says Feinstein, the young man was robbing a woman in his apartment building who recognized him. "It was the pathetic nature of his world view—no teacher had ever taught him, so it was a failure in the education system, not the criminal justice system."
Feinstein, 60, has now been part of that education system for 18 years. He's so involved with the school community that he has created a separate Twitter account—@feinsteinapus—where he makes what he calls "rah-rah" tweets about the school and teases freshmen. For instance, not long ago, he tweeted a picture of some toolsheds behind the school and wrote: "parking for our fleet of limos." He also wrote, "Tomorrow's APUS [Advanced Placement United States] essay will be on Woodrow Wilson, the Wright Brothers, and Booker T. Washington. Students using curly W's get extra credit."
Not long ago, one of Feinstein's former students came up to him at Costco and told him he just started law school. Then the student said, "I still think of and use what you taught us about how to write."
Feinstein says it's always nice when he runs into former students, but it's even better when they say something specific. "It's an important part of what I think my classes should be about. I want them to remember the skills forever."
He shies away from any talk about his long hours. "I wanted something that was intellectually engaging but rigorous," he says. He liked the long hours in law, "but after I did all that work, I didn't get a feeling of satisfaction. That was a hole and a void that was never solved by job one, two, three, or four as a lawyer."