By Anna Stolley Persky
August 21, 2017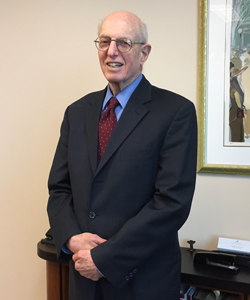 After graduating from Brooklyn College, Herbert Dubin didn't know what he wanted to do. "I went to law school in Brooklyn to delay the decision of going into the military—there was a draft at the time—or doing something else in my life," he recalls.
Now 77, Dubin has been in solo practice since 1983 and serves as a mentor to less experienced attorneys. After all these years of being a litigator, the Rockville, Maryland-based attorney says he still loves the different challenges of practicing law.
Dubin graduated from Brooklyn Law School and is a longtime member of both the District of Columbia Bar and the Maryland Bar. He is a member of the D.C. Bar Legal Ethics Committee and the Maryland Attorney Grievance Commission Peer Review Panels.
What kind of law do you practice?
I became a solo practitioner in 1983 and have been working on my own ever since. Because of my experience as a prosecutor for the Interstate Commerce Commission and the Civil Aeronautics Board, I do federal and state criminal defense. I also defend clients in administrative agency hearings and complex business litigation. I handle divorce cases, estate litigation, and automobile accidents. I defend attorneys who have had grievances filed against them. Over the years, I have defended a number of government personnel who were being prosecuted for ethics violations.
How did you end up as a solo practitioner?
I finished law school [in 1964 after] two and a half years, and then I stumbled upon a job at the Interstate Commerce Commission. I had never heard of it, and I had never heard of transportation law, but at that time it paid better than what the private industry was paying for someone just coming out of law school. We had a child on the way so getting a stable income was important.
I didn't love my first job, which was decision writing. Instead of clerking for a single judge, you wrote for all the different commissioners. There was always layer upon layer of review of your work. I was always rewriting and rewriting. I learned from the job how to respond to the requirements of multiple bosses.
But then I found the area I did like—litigation. I liked it better because there was a lot more variety and freedom in my work. I stayed with the agency and prosecuted cases. We moved to Chicago. I was never without work to do. This was before the government established the Department of Transportation so we were in charge of prosecuting safety violations for the entire Midwest.
I went into private practice in Washington, D.C., because I found places that were willing to pay me more money, and I wanted new challenges. I eventually ended up at a big law firm that imploded, and so I became a solo practitioner in 1983. At that point, I had lots of experience practicing law and especially litigating cases.
What is your advice to new lawyers thinking about starting their careers as solo practitioners?
There are many lawyers out there who hang out a shingle and yet have no clue what they are doing. If you can, get experience first. Get a job with a firm, a government agency, a corporation. Find a place where you will get the mentoring you need and where you can learn the basics they don't teach you in law school, like get a stamped receipt when you file something with the court. By doing this, you will greatly reduce your stress when you do go out on your own because you won't get frustrated by not knowing things that only experience teaches you.
If you can't get a job where you can get mentoring and experience, then find someone who will mentor you. Find someone who can give you advice on things like watching your deadlines and the do's and don'ts of trust accounting. I mentor young attorneys and enjoy doing so. There are so many new attorneys who are unhappy because practicing law is not what they thought it would be and who are frustrated because they don't have guidance. I like helping them, so they are less frustrated and better able to enjoy the practice of law.
What is the key to being so happy practicing law?
I have balance in my life. Unless I am in the middle of a trial, I don't work on weekends. It is not necessary to work all the time and practice law. I'm a gym rat. I swim and spin. My wife and I teach swimming to disabled people. We also travel a lot.
The best advice I can give other lawyers is to make sure you have balance in your lives. Find something that you enjoy doing outside of practicing law and do it. Do what you need to do to keep yourself from getting burned out.
Do you ever think about retirement?
Are you talking to my wife?
I have a grandchild in Spain, so sometimes we think about me retiring and then we would live part-time in Spain. In the meantime, I am here, practicing law.