By David O'Boyle
August 13, 2018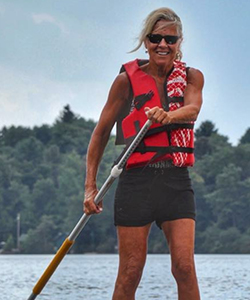 Looking over the trajectory of Deborah Kelly's career, one might assume that Kelly got to where she is today through a series of calculated and purposeful decisions. However, her path to becoming partner in the employment and labor practice at Manatt, Phelps & Phillips, LLP was anything but calculated.
Her experiences have ranged from stints in the restaurant industry, working as the Baltimore Orioles' first female usher, competing on Jeopardy, teaching in the middle school and college levels, practicing law, and conducting trainings on workplace rights for audiences from staff to executives.
From the early stages of her career, Kelly knew she didn't love the law enough to work on any subject matter. As an associate in general litigation, Kelly recalls falling asleep in her firm library while researching consequential damages resulting from the use of Benlate fungicide.
"I remember thinking, I can't do this. I don't care," Kelly says. "I had to pick a subject matter expertise where my heart and my head were in the same place." Although the path to reach that place was circuitous, Kelly eventually found it in labor and employment law.
Kelly grew up in Larchmont, New York, the daughter of Matt Kelly, a well-known labor arbitrator and professor at Cornell University's School of Industrial and Labor Relations. He served as an arbitrator for organizations such as the North American Soccer League and Players Association and the New York City Transit Authority and Transit Supervisors Organization, as well as arbitrated many public-sector walkouts in New York City in the heyday of unions. For more than 20 years, he served as the permanent arbitrator for the Consolidated Edison Company of New York — or Con Edison — and the Utility Workers Union of America.
At her father's funeral, standing in the receiving line as people came to pay their respects, Kelly recalls leaders from ConEd telling her, "Matt was our impartial arbitrator, but inside, we always knew he was one of us." Leaders from the Utility Workers Union of America also expressed the same sentiment, Kelly says.
While her career path has a lot of similarities to that of her father's, Kelly says that was not by design. "My father was polite and perfect," Kelly says. "Early on, I decided I didn't want to have anything to do with following him. But as someone who thought I was the badass rebel child, it didn't turn out that way."
At 16, her first act of rebellion was to choose to attend the University of Vermont at the suggestion of a lifeguard she had a crush on and who attended school nearby. But it wasn't long before a career path began to take shape for Kelly. As an undergraduate, she became interested in politics and teaching. After brief stints teaching middle school in the United States and in England, Kelly decided she wanted to become a college professor.
While studying for her doctorate at Johns Hopkins University, Kelly wrote her dissertation on victims of rape and their view of the criminal justice system. Her study was one of the first of its kind, and she testified before the President's Task Force on Victims of Crime and the Maryland legislature, submitted written congressional testimony, and served as a consultant to the American Bar Association Criminal Justice Section's Victims Committee.
Kelly went on to work at the Brookings Institution and to teach political science at the University of Maryland and American University. However, she was turned off by the internal politics associated with a career in academia and, a year into her job at American University, she decided to pursue a law degree.
While a fulltime professor at American University, Kelly attended the school's Washington College of Law and received her J.D., with the intention of becoming a law professor. However, before she could join the law school's faculty, her professors encouraged her to work outside of academia and practice law to bolster her qualifications.
Taking their advice to heart, Kelly joined Dickstein Shapiro LLP as an associate, planning to practice for two years and then become a law professor.
"At the time, my husband told me I was going to be the only person who makes partner at a big law firm because [I] couldn't get a job teaching," Kelly says. "And that's exactly what happened."
However, shortly before she began working at the firm, Kelly discovered she was pregnant — with triplets. And with three babies to raise as first-year associate, Kelly and the firm worked out a part-time arrangement that allowed her to work at 80 percent while staying on the partner track.
As a fifth-year associate, Kelly took on a case representing former Pan Am flight attendants — including Kelly's sister-in-law — who lost their jobs after Delta pulled the plug on its agreement to acquire Pan Am.
Kelly enjoyed the experience so much that she asked her firm to allow her to launch an employment practice. "I just thought I can't go back to being a general litigator. If I'm going to be away from my three kids, I need to spend my time doing something that matters to me."
For Kelly, there is no more interesting area of law than employment, calling the practice "the second most personal kind of law you can practice," behind family law. "Emotions run so high and hurt runs so deep in employment law. People work hard and sacrifice a lot in their work," Kelly says.
Even as an employment attorney, Kelly continues to pursue her passion for teaching. She teaches employment and labor law at American University and conducts compliance training on workplace discrimination, harassment, and other topics for boards, management, and staff.
To balance the pressures of her career, Kelly takes to the water. She is an avid long-distance swimmer and has done 26 open water swims with Swim Across America, a nonprofit that raises money for cancer research.
"Swimming gives me the personality I wish I had," Kelly says. "It's calming and quiet." This summer, Kelly participated in her 19th Long Island Sound Swim.