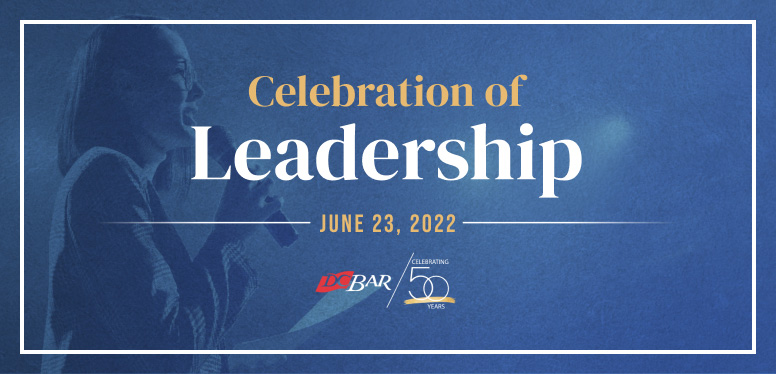 Celebration of Leadership Annual Meeting and Awards Dinner
7:30 – 9:30 p.m. ET
Renaissance Washington, DC Downtown Hotel
Featuring the Swearing-In of Ellen M. Jakovic as the 51st President of the D.C. Bar
The annual D.C. Bar Celebration of Leadership honors the extraordinary achievements of D.C. Bar members and officially welcomes the newly elected D.C. Bar officers, members of the Board of Governors, and American Bar Association delegates.
Join us back in person at the Renaissance Washington, DC Downtown Hotel to connect with the Bar community, celebrate the outstanding initiatives of our members, and commemorate the Bar's 50th anniversary.
The Celebration of Leadership directly follows the 2022 D.C. Bar Conference.
Join the Celebration of Leadership Host Committee. Groups who purchase a full table of six seats or a half table of three seats by June 1 will be included on the Host Committee and will receive special recognition in the commemorative 50th anniversary program. For more information, contact us at [email protected].
Questions? Contact us at [email protected].
---
2022 Awards Presented at the Celebration of Leadership
The Celebration of Leadership provides an opportunity to recognize the people and organizations who have worked tirelessly to improve the legal profession and greater legal community through public service, volunteer hours to help improve access to justice, and development of new projects and initiatives.
Learn about the upcoming awards and how to submit a nomination.