Pro Bono Volunteer Q&A: Lola Johnson
October 25, 2021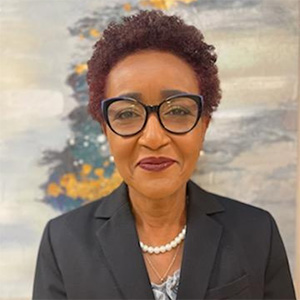 The Pro Bono Center's clinics, resource centers, and other services are powered by pro bono attorneys who volunteer their time and expertise to serve our neighbors in need.
Federal government attorney Lola Johnson has volunteered with the Pro Bono Center's Advice & Referral Clinic for the past three years. She shared her perspective on volunteering as a federal government employee, delivering legal advice remotely during the COVID-19 pandemic, and the value of pro bono service in this Q&A.
What led you to pursue a legal career? Where did you go to law school?
Law relates to everything. I wanted to enhance my understanding of the law in general and tax law in particular. I attended the Cleveland Marshall College of Law in Ohio and the Georgetown University School of Law in Washington, D.C.
Tell us about your legal career.
I have worked for the federal government for more than 20 years. Early in my career, I was the first permanent clerk for Judge Solomon Oliver, Jr. in the U.S. District Court for the Northern District of Ohio. Later, I was his attending clerk at his first sitting with the U.S. Court of Appeals for the Sixth Circuit. I have also worked in corporate practice and at a law firm.
What's the volunteer experience like at the Advice & Referral Clinic?
It's a way to contribute to the greater good and an opportunity to provide advice to people who may not otherwise have access to legal services. I work with a diverse group of people from various socio-economic backgrounds as well as with mentors in different practice areas who provide support and leadership to ensure that clients receive a stellar legal product and accurate advice.
How are you able to help people in areas outside your normal practice area? What skills do you use and what resources are available to you?
I have worked with cases in Family Law, Housing, Personal Injury, Property Damage, Consumer and Probate law.
While those subjects are outside my normal practice area, the resolution of those cases involves the same set of skills. That includes identifying issues, researching the law, applying the law to the facts and reaching a correct conclusion. It's great work. Prior to the pandemic we provided services at two locations in DC. Since the pandemic began, we have been providing services remotely.
Why do you volunteer?
It's a way of giving back, of sharing one's good fortune with others. But for God's grace, I could be in need. It's my reasonable service. It's also a fantastic opportunity to engage with a community of committed professionals who serve a vast array of clients who need our help.
Do you do other types of volunteer work?
I also serve as an election officer in my county and have volunteered as an auxiliary officer with the local sheriff's office. I have volunteered at several area homeless shelters and with the palliative care unit of the Cleveland Clinic.
Are there other benefits to volunteering besides serving people who need legal help?
I've been able to work with great attorneys outside of my practice area. Because of the way the clinic is set up, I can discuss each case with a mentor. This way, volunteers always have some expert guidance. It broadens your knowledge base.
What has the volunteer experience been like during COVID-19 remote operations?
It's an adjustment. It's set up so that one can maintain clients' privacy and confidentiality. While it's not as great as being face-to-face with a client, it works and is safe in light of the pandemic.
How does your volunteer experience differ from what you do in your day job?
At work, my client is a division of the agency, not an individual. However, I use the same legal skills in both.
Can you tell us about any memorable clients or cases you have worked on (to the extent you can talk about them and maintain confidentiality)?
One memorable case involved a dispute concerning whether my client created a nuisance by feeding the birds in the neighborhood. A neighbor complained that the activity attracted too many birds. My client came in prepared to defend the case and assisted in the preparation of the necessary documentation.
How do you feel you are making an impact with your pro bono service?
I am helping to provide legal services to people who might not otherwise have access to those services.
What have you learned about the clients who seek help from the clinic? Has anything surprised you?
The clients are people with genuine concerns about obtaining positive outcomes for legal matters in which they find themselves entangled. Some clients seek resolution for multiple cases.
However, because the clinic seeks to service as many clients as possible, clients must select one case per visit. They can apply again for assistance with the other cases.
What would you say to other D.C. Bar members or federal attorneys who are considering getting involved in pro bono service? What would you like them to know?
Volunteering is a growth opportunity. Agencies often support volunteering and obtaining the necessary pre-approval is not difficult.
What's your best strategy for maintaining your health and well-being during the pandemic?
I consult with my physician, try to maintain a healthy diet and get a proper amount of rest. I also include exercise that takes me into nature, and I dance like nobody is watching!
Federal government lawyers volunteer in their individual capacities. To get started, federal government attorneys can contact Federal Government Pro Bono Program Chair Laura Klein.