Pro Bono Service Recognized at D.C. Bar Awards
June 28, 2021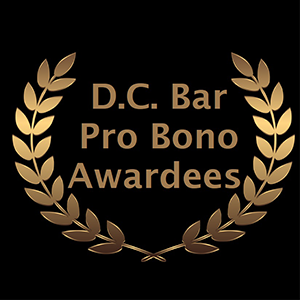 The D.C. Bar presented its annual awards for outstanding leadership, service, and innovation at the Celebration of Leadership on June 24. Both an individual and a firm were recognized for their stellar pro bono service in 2020. Covington & Burling LLP received the Pro Bono Law Firm of the Year award and Arnold & Porter partner Daniel Cantor won the Laura N. Rinaldi Pro Bono Lawyer of the Year award. Both Covington and Cantor demonstrated an outstanding dedication to D.C. residents in need.
Covington & Burling demonstrated its exceptional commitment to D.C. residents again in 2020, a challenging year for all. More than 95% of the firm's D.C.-based attorneys billed pro bono hours in 2020. The firm dedicated 9.73% of its billable hours to pro bono work in 2020. Covington devoted nearly 50,000 hours of service to District residents in need, including time with community-based nonprofits and disadvantaged small businesses. The firm's D.C. lawyers also took on high-impact projects like transforming D.C.'s juvenile justice system, protecting due process rights of unhoused residents, and narrowing the civil justice gap. These efforts, among many others, embody Covington & Burling's devotion to the city it calls home.
During the pandemic, Cantor doubled down on his commitment to D.C. residents. His determination to make justice a reality for people of limited means was reflected in his work last year. He conceptualized and led an effort to serve displaced workers unable to secure unemployment benefits after losing their jobs. To spread the word to these professionals, Cantor built relationships with the James Beard Foundation and others in the hospitality industry. He created an expansive network of pro bono support for newly unemployed workers by leveraging the help of local unemployment insurance law experts and pro bono attorneys.
Extraordinarily, Cantor also found the time to serve tenants impacted by the housing crisis, head a team representing 150 elderly tenants in a public housing complex destroyed by fire, and co-lead a case on behalf of 17 Mexican workers facing labor exploitation. Cantor's remarkable year of pro bono work was yet another in a career dedicated to serving those in need. He devoted more than 850 hours to these pro bono projects in 2020, in addition to the almost 2100 hours he spent on billable matters.
The D.C. Bar's annual award for exceptional pro bono service by a lawyer is named in memory of Laura N. Rinaldi, a treasured former member of the Pro Bono Center staff. Laura was a dedicated, talented managing attorney who dramatically improved the lives of D.C. residents living in poverty through legal assistance in public benefits, health care, immigration, special education, and housing matters. A trailblazer, Laura helped to start one of the first medical-legal partnerships in the country. Laura's memory continues to inspire her Pro Bono Center colleagues, as well as the entire the legal services community.
If you, a friend, or your firm deserve recognition for outstanding service in 2021, you can begin preparing your award nominations now. The nomination period typically runs from February to March.