New Landlord Tenant Practice Training Opportunities
September 17, 2021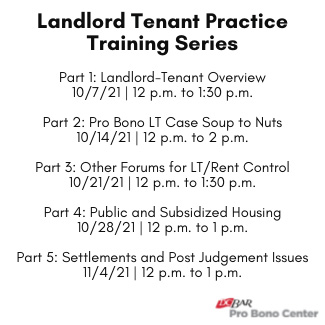 The D.C. Bar Pro Bono Center is training our volunteer ranks in anticipation of a wave of eviction cases. Remaining COVID-19 public health emergency protection orders are set to expire, and thousands of D.C. renters are at risk of eviction. The Pro Bono Center has been planning for the end of the eviction moratoriums since they were enacted in March 2020. In the last year alone, the Pro Bono Center conducted two Landlord Tenant training series and trained 222 legal professionals to prepare them to represent tenants and small landlords.
The increase in training opportunities is part of an effort to brace the D.C. legal services community for unprecedented demand. "Individuals and families experiencing poverty in the District need help now, more than ever," said Vanessa Batters-Thompson, the Center's associate director. "The Pro Bono Center is offering legal training this fall to prepare volunteers to competently and confidently help our neighbors navigate this eviction crisis."
Batters-Thompson, who designs and coordinates the Center's training program with Training & Volunteer Specialist Alison Percich, places special emphasis on the Landlord Tenant Practice training series. This five-part series will be led by subject matter experts and include overviews of landlord tenant court; substantive landlord and tenant law; complaints, pleadings, and pre-trial procedures; eviction procedures; public and subsidized housing issues; and rent control, as well as practice during the COVID-19 public health crisis.
Lauren King, the Center's Housing Initiative attorney and a practice-series trainer noted, "It is crucial that volunteer attorneys update their toolkit with new legal arguments and procedural changes following the eviction moratorium."
The series, aimed at new and returning volunteers, starts on October 7 and runs weekly through November 4. Training participants agree to accept two pro bono referrals from one of the sponsoring organizations: the D.C. Bar Pro Bono Center, Bread for the City, Legal Aid Society of the District of Columbia, Legal Counsel for the Elderly, or Rising for Justice.
More information about the Landlord Tenant Practice Training Series.
On top of the training program, the Center matches attorneys with pro bono clients and provides expert mentorship and other support. Current volunteers can also access on-demand trainings in family, bankruptcy, public benefits, and more. Attorneys interested in training and volunteering with the Pro Bono Center can view the fall 2021 training schedule or our volunteer page.