Neighborhood Staple Goes Remote
November 16, 2020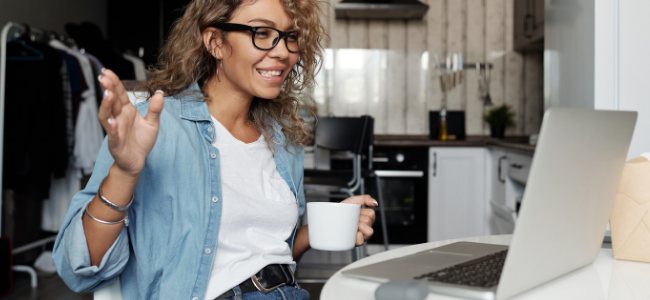 The D.C. Bar Pro Bono Center has operated its Advice & Referral Clinic in-person on the second Saturday of every month since 1997. That all changed in March, when the Pro Bono Center canceled its clinics in Shaw and Anacostia due to COVID-19. Since then, Managing Attorney Erik Goodman and Assistant Director Lise Adams have been looking for a way to best serve the clients who need brief legal advice on D.C. civil legal matters.
In March, Goodman and Adams devised a temporary help line for Advice & Referral Clinic clients in lieu of the in-person clinic. Goodman operated the line with help from Center staff members Marcia Boyd, Nancy Cattani, Cecilia Esterline, Nicole Fisher, and Ruth Verdin. From March to October, the help line served more than 200 callers.
"The Advice & Referral Clinic is a neighborhood staple in Shaw and Anacostia," Goodman says. While the court's operations slowed down for a short time, D.C. residents still needed brief legal advice. That's only become truer as remote hearings have ramped up."
Center staff met to discuss paths forward. They opted to open a remote clinic using volunteers in October, which gave the staff time to plan the logistics. It went off without a hitch. From October 2 to October 8, 2020, staff conducted intakes to determine legal needs and which volunteer should serve each client. The following week, volunteers returned calls and provided legal advice, all under the supervision of Pro Bono Center lawyers and volunteer expert mentors. The remote clinic ultimately served 26 individuals in English, Spanish, and Amharic.
The pandemic has ushered in a wave of economic uncertainty. With it, clients are looking for ways to recover money that they lost to malfeasance and avoid liability for debts that should not be theirs. Most cases the remote Advice & Referral Clinic handled involve consumer, probate, and employment law, helping families preserve their income and assets.
After the pandemic hit, the Pro Bono Center had primarily relied on staff to serve its Advice & Referral Clinic clients, but they reintroduced volunteers into the fold in October. Volunteers and mentors from 29 law firms, the Federal Government, the Office of the Attorney General for the District of Columbia, and partners in the D.C. civil legal services community offered their legal expertise in October and November:
Ain & Bank, P.C.
Bertram Law Group, PLLC
Blackboard
Blank Rome LLP
Children's Law Center
Consumer Reports
Finnegan, Henderson, Farabow, Garrett & Dunner, LLP
Freshfields Bruckhaus Deringer LLP
Fried, Frank, Harris, Shriver & Jacobson LLP
Ivins, Phillips & Barker, Chartered
J Williams Law
Johnson & Pavuk
Jones Day
K&L Gates LLP
Kass Legal Group, PLLC
Katten Muchin Rosenman LLP
Keller and Heckman
King & Spalding LLP
Law Office of Andrea J. Sloan
Law Office of Ashok Batra
Legal Services Corporation
Miller & Chevalier
Morgan, Lewis & Bockius LLP
Patrick Malone & Associates, PC
Regan Zambri Long PLLC
Sheppard Mullin
Webb, Soypher, McGrath, LLC
Whitman-Walker
WilmerHale
"The D.C. legal community understands how vital the Advice & Referral Clinic's services are," Adams says. "The clinic answers questions, provides solutions, drafts pleadings, and makes referrals for ongoing representation whenever possible. More than ever during these uncertain times we provide a place for clients living on low incomes to turn for free legal advice and compassionate service. With the court holding more remote hearings, we had to be prepared to serve those who depend on the Pro Bono Center."
The next virtual Advice & Referral Clinic will take place in January.