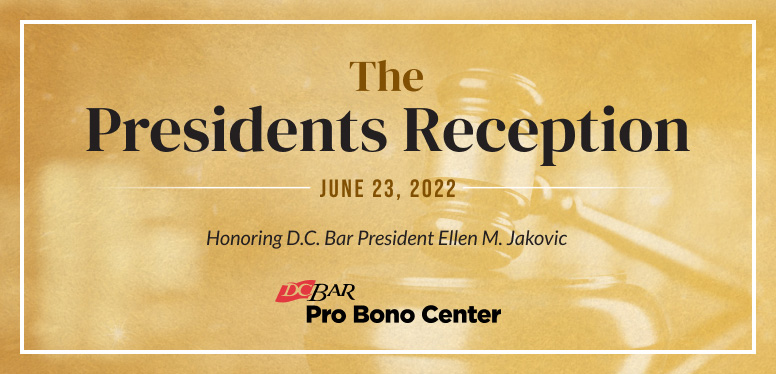 The D.C. Bar Pro Bono Center gratefully acknowledges our loyal donors and friends and colleagues of incoming D.C. Bar President Ellen M. Jakovic who generously contributed to the 2022 Presidents Reception. Thank you for supporting the Pro Bono Center as we continue to serve our neighbors in need.
It's not too late to contribute to the 2022 Presidents Reception and make a difference in the lives of our neighbors. For more information, please contact Angela Boone at [email protected] or 202-780-2733.
Underwriter
Akin Gump Strauss Hauer & Feld
Covington & Burling LLP
Crowell & Moring LLP
Eversheds Sutherland LLP
Finnegan, Henderson, Farabow, Garrett & Dunner, LLP
Ellen M. Jakovic & David Lipson
Orrick, Herrington & Sutcliffe Foundation
Pillsbury Winthrop Shaw Pittman LLP
Savills
Skadden, Arps, Slate, Meagher & Flom LLP
Pacesetter
Boies Schiller Flexner LLP
Cleary Gottlieb Steen & Hamilton LLP
DLA Piper LLP
Kellogg Hansen Todd Figel & Frederick, PLLC
Kilpatrick Townsend & Stockton LLP
King & Spalding LLP
Mayer Brown LLP
Morrison & Foerster Foundation
Presidents Circle
Boston Properties
Gibson, Dunn & Crutcher LLP
Hogan Lovells
Jenner & Block
K&L Gates
Morgan Lewis & Bockius LLP
Paul, Weiss, Rifkind, Wharton & Garrison LLP
Ropes & Gray LLP
Sterne, Kessler, Goldstein & Fox P.L.L.C.
Williams & Connolly
Winston & Strawn LLP
Gold Law Firm/Corporate Benefactor
Allen & Overy LLP
Buckley LLP
Foley & Lardner
Carolyn C. Halladay
Jones Day
Past Presidents and Leaders of the Women's Bar Association and Women's Bar Association Foundation *
Benefactor
Erica J. Dominitz & Yaron Dori
Ron Flagg & Patti Sharin Flagg
David C. Frederick
Stephen I. Glover
Jamie S. Gorelick
Patrick McGlone & Kevin Taylor
John W. Nields, Jr.
Steve & Ruth Pollak
Martha L. Rees & Frank W. Hobbs, Jr.
James J. Sandman & Elizabeth D. Mullin
Chad & Christina Sarchio
Mary Ann Stein & Gideon J. Stein
Linda Chatman Thomsen & Steuart H. Thomsen
Law Firm & Corporate Benefactor
ArentFox Shiff LLP
Baker McKenzie
Ballard Spahr LLP
Cohen Milstein Sellers & Toll
Cooley LLP
Dentons US LLP
Epstein Becker Green
Fenwick & West LLP
Fried, Frank, Harris, Shriver & Jacobson LLP
Gilbert LLP
Goodwin Procter LLP
Harris, Wiltshire & Grannis LLP
Holland & Knight
Hunton Andrews Kurth LLP
Katten Muchin Rosenman LLP
Lathrop GPM Foundation
McDermott Will & Emery LLP
McKinney Figini LLC
Munger, Tolles & Olson Foundation
Norton Rose Fulbright US LLP
O'Melveny & Myers LLP
Perkins Coie, LLP
Proskauer Rose LLP
Quadrangle Development Corporation
Reed Smith LLP
Seyfarth Shaw LLP
Ullico, Inc.
Weil Gotshal & Manges LLP
White & Case LLP
Wilson Sonsini Goodrich & Rosati Foundation
Zuckerman Spaeder LLP
Pro Bono Partner
Richard M. & Emily Alexander
Susan M. Allen
Winn Allen
Gene Assaf
Robert B. Barnett
Brooksany Barrowes
David M. Battan
Brian A. Benczkowski
Paul F. Brinkman
Judson Brown
Reginald Brown
Brigham Cannon
Stuart E. Casillas
Rohit Chaudhry
Eunu Chun
J. Penny Clark
John Cruden
Rich Cunningham
Daniel T. Donovan
Edward C. Donovan
Jennifer A. Duane *
Alexandra N. Farmer
Peter A. Farrell
Marc L. Fleischaker
Nathalie Gilfoyle
Michael A. Glick
Brian C. Greene
Matthew L. Haws
George W. Hicks Jr.
Susan M. Hoffman
Ted & Judy Howard
Emily P. Hughes
Erin C. Johnston
James W. Jones
Michael D. Jones
Michael K. Kellogg & Nancy Lucille Pugh
Paul F. Khoury
Peggy Lansbach O'More & Sean Colm O'More
Jennifer Levy
Gregg F. LoCascio
Andrew T. Maccabe
Mario Mancuso
Andrew H. Marks & Susan G. Esserman
Peter Martelli
Sean M. McEldowney
Christopher Mizzo
Erin E. Murphy
Ragan Naresh
Roald Nashi
John C. O'Quinn
Matt Owen
Aaron M. Panner
Mary Ellen Powers
Craig Primis
Matthew Reilly
Bruce H. Rosenblum
Bridget Rowan & Don O. Burley
Nader Salehi
Ivan Schlager
Carolyn Schroll
Matthew Steinmetz
William Stuckwisch
Chris Torrente
Mark H. Tuohey III
Edwin J. U
Kelly D. Voss & Steve Kaplan
Jamie Walter
Timothy J. Webster
Jason Wilcox
Michael Williams
Jeremiah M. Wolsk
Law Firm & Corporate Patron
Alston & Bird LLP
Baker Botts LLP
BakerHostetler
Banner Witcoff
Beveridge & Diamond
Blank Rome
Cadwalader, Wickersham & Taft LLP
Curtin Law Roberson Dunigan & Salans, P.C.
Debevoise & Plimpton LLP
Dechert LLP
Duane Morris LLP
Dykema
Exelon
Faegre Drinker Biddle & Reath LLP
Feldesman Tucker Leifer Fidell
Furey Doolan & Abell LLP
Groom Law Group
KaiserDillon PLLC
Kelley Drye & Warren LLP
Manatt, Phelps & Phillips, LLP
Miller & Chevalier, Chartered
Nelson Mullins Riley & Scarborough LLP
Law Offices of Peter T. Nicholl
Pasternak & Fidis, P.C.
Wendy H. Schwartz & Associates, PLLC
Shearman & Sterling LLP
Stroock & Stroock & Lavan
Troutman Pepper
Vedder Price
Vinson & Elkins LLP
Pro Bono Council
Stephen Anthony
Jeffrey Ayer
Cecily Baskir & John Freedman
James F. Bendernagel
Brigida Benitez
Catherine D. Bertram
Blake A. Biles & Laura L. Sessums
Barry Buchman
Andrew Clubok
David W. DeBruin
John M. Dowd
Robert Falk
Hamilton Fox, III
Elizabeth S. Gere & William F. Causey
James P. & Kathleen Gillespie
Jeffrey T. Green
Mark C. & Anne Hansen
Thomas G. Henthoff
Eric L. Hirschhorn & Leah Wortham
Philip W. Horton
John R. Jacob
George W. Jones, Jr. & Loretta Pleasant-Jones
Andrew T. Karron
Geoffrey M. Klineberg
Joseph E. Kolick, Jr.
Carolyn Lamm & Peter Halle
Ira Lechner
Esther H. Lim & John C. Yang
Charles R. Lowery, Jr.
Carol & Gene Ludwig Family Foundation
Mira N. Marshall
Darryl Maxwell & Janice Bashford
Louis T. Mazawey
Katherine A. Mazzaferri
Erum Mirza
Andrea Agathoklis Murino
Michael Nemeroff
Kelli & Lionel Neptune
David M. Ogden
Thomas C. Papson & Toby Singer
Jeff Pash
William J. Perlstein
Carter G. Phillips
Gregory Gerber Rapawy & Jessica Sky Boyer
Stephen L. Ritchie
Daniel C. & Teresa Moran Schwartz
Jane C. Sherburne
Robert J. Spagnoletti & Bernard Lewis
Maureen Thornton Syracuse
K. Chris Todd
John K. Van De Weert, Jr.
Natalie S. Walker
David B. Weinberg
Law Firm & Corporate Sponsor
ACC National Capital Region
Ain & Bank, P.C.
AMS Trade LLP
Bass, Berry & Sims PLC
Bryan Cave Leighton Paisner LLP
Cozen O'Connor
Fast Case
Firm Advice, Inc.
Fish & Richardson P.C.
Goulston & Storrs, P.C.
Hollingsworth LLP
Jackson & Campbell
Keller and Heckman LLP
Klein Horning LLP
Koonz, McKenney Johnson & Depaolis LLP
Lehman Smith McLeish
Mintz
Nixon Peabody LLP
O'Donoghue & O'Donoghue LLP
The Piorkowski Law Firm PC
Potomac Legal Group PLLC
Regan Zambri Long PLLC
Scribner, Hall & Thompson LLP
Smollar Kuntz Locey, PLLC
Thompson HD
Thompson Hine LLP
Tishman Speyer
Van Ness Feldman
Whiteford, Taylor & Preston LLP
Wiley Rein LLP
ZwillGen PLLC
Patron
Lise Adams
Hon. Alfonso L. Adderly (ret.)
Daniel R. Barney
Debby Baum
Caryl S. Bernstein
Amy L. Bess *
Christina Biebesheimer
Birchstone Moore LLC
Marin Boney
Angela M. Boone
John G. Buchanan, III
Jessica Busan
Graeme W. Bush
Ruth Holzer Byowitz & Michael H. Byowitz
Denley Chew & Karen Wu
William J. Conyngham
David J. Cynamon
Kathy Downey
Matthew M. Duffy
Peter B. Edelman
FTI Consulting
Susan & Tim Gibson
Andrew E. Goldsmith
Thomas A. Gottschalk
Michael J. Guzman
Lucille Hague
Kelly J. Harris
Ted Hester
Shirley Ann Higuchi
Derek T. Ho
Steven P. Hollman
Thomas P. Humphrey
Janene D. Jackson
Sheila D. Jones
Daniel S. Kahl
Katherine R. Katz
Kim M. Keenan
Laura Klein
June B. Kress *
Phillip A. Lacovara
Paul S. Lee
Evan T. Leo
Arthur L. Liberman
Lisa Lipsky
Myles V. Lynk
David J. Marcinkus
Kevin G. McAnaney
John M. Nannes
Ellen Ostrow
James T. Phalen
Mark D. Pugliese
Joan Rinaldi in memory of Laura Rinaldi
Jo Ritcey-Donohue
James E. Rocap, III
Robert Ryland
Kurt Lidell Schmoke
Lawrence A. Schneider
Pauline A. Schneider
Thomas G. Schultz
David T. Schwarz
Hon. Nan R. Shuker (ret.)
Earl J. Silbert
Shavon J. Smith
C. Elizabeth Espín Stern & Michael L. Stern
Anne L. Stone
Silvija A. Strikis
Katie Sullivan
Steven Tabackman & Leslie Stout-Tabackman
Tia Trout-Perez
James P. Tuite
Hon. Annice M. Wagner (ret.)
William D. Wallace
Jeffrey D. Watkiss
Robert N. Weiner
Jay S. Weiss
David B. Witherspoon
Charles R. Work & Veronica Haggart
Cynthia G. Wright
Platinum Sponsor
Marc F. Efron
Regina M. Hopkins & Larry Glenn
Catherine Kordestani
Mollie Megan Lacchini
Linda E. Perle & Neil Levy
Scott Scheele
Connie Sinclair & Ryan Lintelman
David J. Walker
Sponsor
Jessica E. Adler *
Jonathan M. Baker
Bruce H. Bernstein
Mary L. Blatch
Bhavana S. Boggs
Chuck Boyars
Hon. Diane Brenneman (ret.) *
Katherine S. Broderick
Carol Elder Bruce
Daniel Bruner
Charles E. Buffon
Ann Bushmiller *
MaryEva Candon
Paulette Chapman *
George R. Clark
Vincent J. Colatriano
H. Guy Collier
Andrew N. Cook
Sabine Curto
Jill F. Dash *
Lisa Dewey
Hon. Stephanie Duncan-Peters (ret.)
Tracy-Gene D. Durkin *
Holly R. Eaton
E. Tazewell Ellett
H. Bartow Farr
Holli Jo Feichko
Debbie Feinstein
Nicholas W. Fels
Andrea C. Ferster
Marialuisa S. Gallozzi
Cathy Gebhard
Stefanie I. Gitler
Kathleen V. Gunning *
Jeffrey S. Gutman
Carla A.R. Hine
Christopher G. Hoge
John R. Ingrassia
Arian M. June
Susan M. C. Kovarovics *
Mark L. Kovner
Bridget Bailey Lipscomb *
Robert H. Loeffler
Emily Merki Long
Nancy Long *
Margarita & Peter Lorenzetti
Andrea Mangones
Christoper N. Manning
Thomas B. Mason
Lorelie Masters *
John E. McCarthy
Nicholas McConnell
M. Elizabeth Medaglia *
Elizabeth B. Meers
Fatema Merchant
Suzanne T. Michel
Steven Miller
Kevin D. Minsky
Nathan L. Mitchell
G. Paul Moates
Sadina Montani *
Samantha R. Morelli
Sonia Murphy *
James Mutchnik
Marjorie O'Connell *
Roger Lu Phillips
Robert M. Portman
Aryeh S. Portnoy
Ilene Price *
Joshua Z. Rabinovitz
Ramya Ravindran
Suzanne Reifman *
David A. Reiser
Relman Colfax PLLC
John Townsend Rich
Carleigh Trappe Rodriguez
Jessica T. Rosenbaum
Diana M. Savit *
Lois J. Schiffer
Michael Schulman
Thomas J. Simeone
Paul M. Smith
Bruce V. Spiva
Annamaria Steward
Jerry Stouck
Joan H. Strand
Lucy Thomson
Hon. Richardo M. Urbina (ret.)
Edward G. Varrone
Courtney L. Weiner
Mary Kate Whalen *
Melvin White
Lauren Harrison Williams
Matty Workman
Joanne Young *
* Past Presidents and Leaders of the Women's Bar Association and Women's Bar Association Foundation in honor of Ellen M. Jakovic, the first WBA or WBAF leader to be elected D.C. Bar President.