Wellness & Beyond
Recognizing the Unique Mental Health Challenges of the BIPOC Community
July 25, 2023
BIPOC Mental Health Month is a time to highlight and recognize the unique experiences and mental health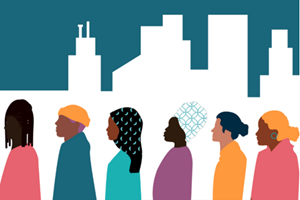 challenges faced by Black, Indigenous, and people of color. Observed each July, BIPOC Mental Health Month was designated in 2008 in honor of Bebe Moore Campbell, a mental health advocate and author whose work focused on the wellness needs of the Black community and other underrepresented groups.
Mental Health America's theme for this year's campaign is Culture, Community, and Connection, representing the three pillars that MHA identifies as essential for mental health in the BIPOC community. The first pillar — culture — provides a sense of identity and belonging to one's traditions. Storytelling, music, dance, and other cultural traditions allow individuals to reclaim their narrative. In community, people find validation and understanding through shared experiences. Therefore, strengthening community networks is essential to combating the negative impacts of racism and to creating spaces that prioritize mental health. Lastly, isolation negatively impacts mental health, so it is vital that individuals find connection with others to sustain their well-being.
Our environment plays a crucial role in influencing our mental health and overall well-being. For BIPOC people, there is a unique burden of historical trauma that significantly affects their ability to thrive, both individually and collectively. The effects of colonization, slavery, forced displacement, and racism are passed down through generations, creating, contributing, and exacerbating mental health struggles. Acknowledgment and understanding of this historical context are crucial for addressing mental health disparities.
It is important that we continue to learn and develop both cultural competency and cultural humility, and to recognize and address the unique mental health challenges faced by BIPOC clients. At the D.C. Bar, our Lawyer Assistance Program (LAP) is dedicated to offering free and confidential mental health services. LAP counselors understand the importance of providing access to resources and ensuring that clients feel supported throughout their journey.
Online Resources
Books

Sharon Greenbaum is a senior counselor with the D.C. Bar Lawyer Assistance Program.