Legal Happenings
Pro Bono Attorneys Answer Call for Legal Help at Immigration Clinic
March 27, 2023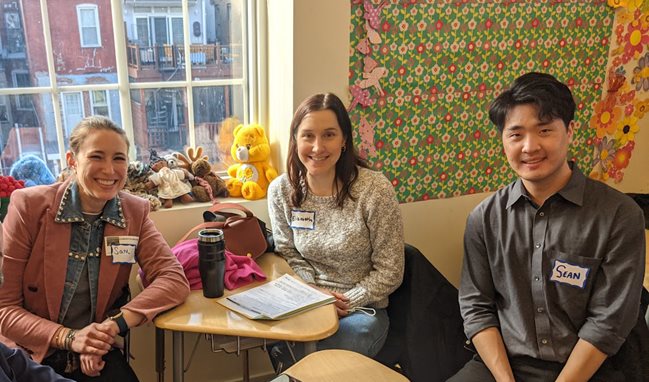 From left to right: Seyfarth Shaw associates Samantha Brooks, Elizabeth Harraka, and Sean Lee.
On March 11, the D.C. Bar Pro Bono Center mobilized 25 volunteer attorneys to provide brief advice to area residents at the Immigration Legal Advice & Referral Clinic. In all, 87 people from 28 countries of origin received an assessment of their immigration options, as well as referrals to appropriate area resources to help them navigate this notoriously complex area of law.
Held quarterly at the Carlos Rosario International Public Charter School in the Columbia Heights neighborhood, the clinic is a unique, and often emotional, coming together of District residents seeking legal help with their immigration-related problems and area attorneys who volunteer their time to provide free legal consultations.
Among the volunteers that Saturday was a group of associates from Seyfarth Shaw LLP — Samantha L. Brooks, Elizabeth Harraka, and Sean Lee. All three work in areas of law that rarely involve individual clients or intersect with immigration law. Brooks is a management-side labor and employment litigator, Harraka represents companies in construction and commercial litigation, and Lee assists institutional clients with real estate matters.
"It's nice to help folks who really need it," said Brooks, who volunteered at the immigration clinic for three years prior to the pandemic. In addition to volunteering at the clinic, Brooks is handling a pro bono asylum case that will be heard later this year. Closer to her wheelhouse, she also assists local nonprofits with their labor and employment law issues.
"Seyfarth is a law firm that is deeply committed to supporting the communities in which we live and work, and providing pro bono legal services to those in need and to nonprofits that serve [them] is one of the ways we honor that commitment," Brooks said.
Harraka enjoys the different challenges she encounters when volunteering. "I'm very removed from the personal [aspect of] the work that I do; this is a real change of pace," she said. Harraka, who also volunteers with the Department of Veterans Affairs, said she finds it gratifying to help those whose struggles have gone unnoticed and unaddressed.
Lee was only recently admitted to practice law but has the advantage of personal insight into the struggles faced by people immigrating to the United States. "I came to the United States from Korea when I was seven. I was an immigrant, so I understand how frustrating the process can be," he said.
Lee was too young to grasp the bureaucratic hurdles his family faced, but in the intervening years he has come to appreciate the difficulties of navigating the U.S. immigration system. Now, Lee said he finds satisfaction in helping other families find a path forward in their immigration journeys. "It's rewarding work and it can impact someone's life," he said.
Wilmer Cutler Pickering Hale and Dorr LLP associate Dr. Haolu (Harry) Feng also found himself reflecting on his own experiences while connecting with clients at the immigration clinic.
"I am also a minority myself by many standards. I am an immigrant, I am Asian, and I am a first generation in so many things in my family. That's why I pay special attention to fellow members in my group. I feel them. I am happy that I volunteered in the immigration clinic," said Feng, who also volunteered as a surveyor for Asian voters on Election Day last year.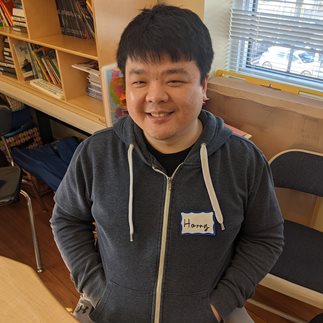 Feng perceives a common thread between the concerns of clients at the immigration clinic and those he served through the D.C. Bar Pro Bono Center's Landlord Tenant Resource Center during the pandemic. "Many of the difficulties for minority groups are the same [as] the ones faced by the tenants I served: a barrier to access information and resources. The barrier could be language, status, non-inclusiveness, and many other things," he said.
"In some cases, I never expected that a 30-minute conversation could be so powerful. That is a prime moment making me proud of my profession. It amazes me that empowerment can come with such a small cost, but it is also a sting to me that so many things should have been done but have not been done. That proud-and-unjust complex drives me to keep doing it," Feng added.
Although his intellectual property practice involves entirely different legal codes and client concerns, Feng said that volunteering still provides him with personal and professional benefits. "I believe [that] being a community member means [going] beyond only living in it. So, it feels natural for me to volunteer on the things I did, especially for people not in the spotlight," he said.
"Helping them is not only helping my community, but also a reminder for me that I should not be complacent about being a problem solver as my career. In many cases, I should work harder to be a problem avoider."
Kelli Neptune, executive director of the Pro Bono Center, worked alongside volunteers throughout the day. Neptune also considered the importance of enacting personal values through pro bono efforts. "One of the reasons I volunteer is the same reason I decided to become a public interest lawyer — to be of service to clients. Plus, I like working with my Pro Bono Center team and our partner volunteers and mentors," Neptune said.
"In my role as executive director, I proselytize about the benefits of pro bono volunteerism. I can't do that without it being my lived experience," added Neptune.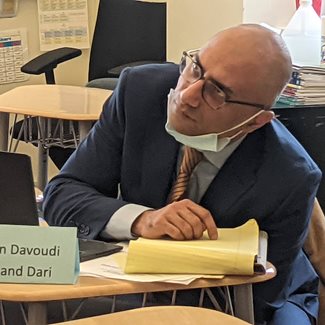 At the clinic, a team of mentors — attorneys with extensive experience in immigration law — reviewed the volunteers' initial determinations to ensure that clients were properly assessed and directed to the appropriate resources. One of the mentors present that Saturday was Shayan Davoudi, immigration staff attorney for HIAS and D.C. Bar secretary.
"The [clinic] is a tremendous community service and a true testament to the [Pro Bono] Center's leadership and tireless dedication to supporting under-resourced communities," Davoudi said.
Jenadee Nanini, Pro Bono Center managing attorney, said it is evident that the need is great. "We make sure clients leave with answered questions, free legal advice, and critical referrals, both legal and nonlegal, based on their needs. We know we cannot represent every litigant, but we can listen to each person and make sure they are on the right track with their issue — big or small," Nanini said.