Legal Happenings
JNC to Shed Light on Nomination Process at Judicial & Bar Conference
March 20, 2023
On April 28 the biennial District of Columbia Judicial & Bar Conference returns as an in-person event at the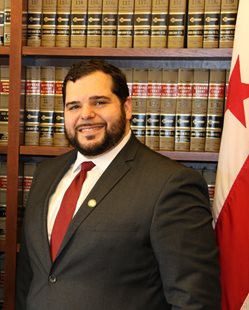 Ronald Reagan Building and International Trade Center, with programming centered around the 50th anniversary of the D.C. Home Rule Act and its pivotal role in the city's legal system.
District of Columbia Court of Appeals Judge John P. Howard III said the establishment of the Judicial Nomination Commission (JNC) and its selection process for filling judicial vacancies on the D.C. Courts are key products of the Home Rule Act.
Judge Howard will join JNC Chair Marie C. Johns, Vice Chair Benjamin Wilson, and others in the panel discussion "So You Want to Be a Judge on the District of Columbia Courts?" Appointed to the Court of Appeals in February 2022, Howard said he hopes to "demystify" the judicial nomination process to panel attendees.
Panelists may also discuss recent turnover at the JNC, including the departure of U.S. District Court for the District of Columbia Senior Judge Emmet G. Sullivan in December after 18 years as chair of the commission.
"He was an incredible longtime chair and a native Washingtonian committed to the city. He had the experience of being on all of our local courts and then going to the District court," Howard said.
With several recent additions to the commission "who have collectively [allotted] more than 100 years of community service," Judge Howard said it will be interesting to see what the new members will focus on. "People are going to be surprised by the incredible new people on this commission," he added.
The D.C. Bar recently spoke with Judge Howard about his own experience going from litigator to judge and the learning curves along the way.
Recall the moment when you decided to become a judge.
It was not my intention starting out to become a judge. I had the opportunity to clerk with two incredible judges — former chief administrative law judge David C. Simmons of the D.C. Commission on Human Rights, and then judge Alexander Williams Jr. of the U.S. District Court for the District of Maryland. I admired both men. Judge Simmons clerked for Judge Damon Keith [on the Sixth Circuit], who became a tremendous mentor for me. Keith remains my foremost judicial idol.
All of these men had a familial-type relationship with their clerks. I liked the idea of being like them. But I thought of myself as a trial and appellate attorney; I thought I would just be a litigator.
I followed my wife's employment and moved to Texas. There, I opened my own shop where I got to do a lot of interesting work. The opportunity to come back [to D.C.] came from the Commission on Human Rights. There was a vacancy [for an administrative law judge]. But I worried I was too young. I interviewed with the director of the Office of Human Rights and others, and I was ultimately selected for the position.
I still remember stepping into a courtroom for the first time and having attorneys who were twice my age looking at me. I was thinking, "Oh, man, what am I going to do?" I then looked at the robe that I had borrowed because I didn't have my own yet, thinking, "Well, this is the position I'm in and I've got to do it."
Then I got a couple of emails early on after doing a few settlement cases that said, "We know that you heard us. And I thank you." That was the moment when I realized that this is what I want to do.
After serving four years as an administrative law judge with the Commission on Human Rights, and then four more with the D.C. Office of Administrative Hearings, how was your transition to the D.C. Court of Appeals?
As an administrative law judge, you're pretty much in a trial court fashion. As a trial judge, you hear the case, draft an order, and sign it. Then it's out. At an appellate level, at a minimum you're with two other colleagues. Nothing can go out unless there is some meeting of the minds. We review each other's work. You have to pass a decision around if you're the one writing it, and that decision gets comments. It's an incredible process because of the level of decision that comes out when you have three minds working on it. Adapting to being a court of one from being a court of three, or at a maximum eight or nine, has been a learning curve.
I'm also learning areas of the law that I may have experienced but not to the depth that I [saw] in my practice in civil and administrative law. I've had some family law experience during my time in Texas, and experience in criminal law and other areas from pro bono matters. But criminal law is where I've had the least experience.
Other than the obvious qualifications — exemplary legal knowledge, integrity, and fair-mindedness — what are some of the other important qualities of a judicial candidate?
The diversity of candidates is important. Having courts that represent our city in numerous ways and having those different perspectives are very important. Having professional [background] diversity, racial diversity, and other personal forms of diversity is very important. And it's [crucial] that the judges care about that, too, in terms of the people who they bring to work with them. The clerks and interns represent different perspectives as well.
Beyond that, presence within the community is important to me. It's very easy to get siloed into these positions. Having people with ties to the community and who can see the community when they are not in the courtroom is [critical].