Issues & Trends
Hogan Lovells Launches Interactive Map of Hate Speech Laws Around the World
August 19, 2022
Attorney volunteers at Hogan Lovells have created a database that provides a snapshot of hate speech laws in 21 countries, including the United States. A collaboration with PeaceTech Lab (PTL), an international nonprofit organization seeking to reduce violent conflict using technology and media, the tool allows users to quickly check whether a country's laws protect against hate speech and to assess the availability of legal recourse for victims of online hate speech.
Christopher Wolf, senior counsel emeritus at Hogan Lovells, was one of the project leads. Widely recognized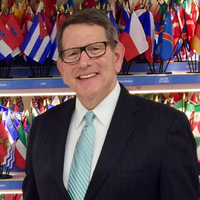 as an internet pioneer, Wolf has been deeply involved with issues relating to digital privacy and online hate speech, co-authoring the 2013 book Viral Hate: Containing Its Spread on the Internet. Wolf also served as founder and board president of the Future of Privacy Forum, a think tank devoted to the study of emergent privacy issues.
Wolf said that the project presented several challenges, including the wide degree of variation between jurisdictions regarding whether and how hate speech is defined. "We could have simply asked attorneys about their local hate speech laws, and, in some cases, they might have come back to us asking, 'what is hate speech?' Is there a definition? Is there an overarching constitutional framework that might affect the question of how hate speech is dealt with?" Wolf said.
"We came up with five questions that would provide a baseline of issues we could address in each of the jurisdictions," said Wolf. "In some of the jurisdictions it was very easy to come up with the answers. In others, it took a lot of digging because it was based on judicial decisions or regulations, or there wasn't an obvious answer and we needed to follow up with agencies. In Great Britain they have a Press Complaints Commission, for example."
The questions the Hogan Lovells attorneys developed ask whether hate speech is defined by law, whether the legal definition requires threats of or incitement to violence in order to be triggered, whether recourse exists for victims, whether recourse exists for those accused of hate speech, whether regulatory frameworks govern online news media that allow individuals to complain, and whether public and private institutions must comply with the same duties to avoid hate speech.
The project was launched in June but drew attention even before its completion. PTL shared an early version of the report with the United Nations' special rapporteur on minority issues, who, in turn, asked to share the document. The Anti-Defamation League (ADL) responded similarly, asking for re-publication rights. This interest in the results led to the report's publication online.
Steven M. Freeman, vice president of civil rights and director of legal affairs at ADL, said in a press statement that the interactive map-based tool will be "incredibly useful" in ADL's work across jurisdictions. "Understanding the legal tools available to combat hate speech is essential in the fight against the many forms of online and offline hate," Freeman said. "We welcome the effort and appreciate the work."
Analysis of the project's results provide some interesting insights. Wolf said that jurisdictions with the most robust protections have displayed reluctance in vigorously prosecuting them. "In places like Germany, France, and Great Britain, where hate speech laws are strongest, the enforcements are few and far between. I think that judgments have been made that they will have targeted enforcement to send a message to the larger hate community, but I've likened hate speech to cockroaches in your kitchen. You can kill a few on the counter, but there are going to be so many more lurking that you can't possibly go after them all," he said.
Instead of pursuing the individuals generating hate speech, Wolf said that these jurisdictions are attempting to address the issue with the platforms on which hate speech is published and distributed. He sees opportunities for this method, in conjunction with the ongoing development of automated tools to identify and remove hate speech.
Such proposals have their own risks due to the tension between the desire to prevent hate speech and traditions relating to privacy and liberty. Some hoping to regulate online speech have suggested the elimination of the ability to post anonymously as one method to reduce hate speech. "Should we require attribution to track people down and pursue legal remedies?" Wolf asked. "Of course, there's a great tradition of anonymous speech in this country going back all the way to Thomas Paine and the anonymous pamphleteers."