Profiles
DC Water's Marc Battle Brings Commitment to Community in Utilities Space
January 17, 2023
Marc Battle's mission as a lawyer is to be a social engineer for good. "Charles Hamilton Houston once said that a lawyer is either a social engineer or a parasite on society," Battle says.
Born in Oakland, California, Battle left the Bay Area to attend the University of the District of Columbia (UDC). He was no stranger to the city — Battle had spent most of his childhood summers in the nation's capital with his grandparents and other family members.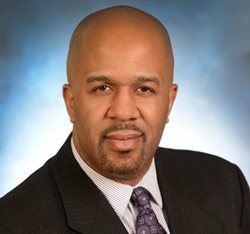 After receiving his journalism degree from UDC in 1999 and his JD from Howard University School of Law in 2002, Battle worked as special counsel and press secretary for the U.S. House of Representatives, and then as counsel to the D.C. Council's government operations committee. He also previously served as associate at Fried, Frank, Harris, Shriver & Jacobson LLP and as assistant counsel at the NAACP Legal Defense and Educational Fund before spending 10 years at Pepco Holdings.
Battle is now chief legal officer and executive vice president for government and legal affairs at DC Water. In his current role, Battle is responsible for all legal, ethics, and compliance issues for the utility as well as its board of directors, and manages DC Water's regulatory and government affairs at the local, regional, and federal levels. He knows he has his work cut out for him as the utility undertakes an ambitious agenda.
"DC Water is working to remove all lead service lines in Washington, D.C., by 2030," he says. "These water lines are not the property of DC Water, but instead belong to homeowners. Nonetheless, we are marshaling the resources to remove lead pipes because they may present a danger to those residents who receive water from them."
Despite his busy schedule, Battle finds time to give back to the community through his various affiliations, including the Greater Washington Urban League, Leadership Greater Washington, Step Afrika!, the DC Public Library Foundation, and his fraternity, Alpha Phi Alpha.
Why did you decide to go from journalism to law?
I chose journalism because I enjoyed it and found that I was a good writer, but I actually knew I wanted to be a lawyer before I was in high school. My sister and I were involved with the NAACP Youth Division, and I admired Thurgood Marshall as the founder of the NAACP Legal Defense and Educational Fund. At an NAACP convention many years ago, I met Wade Henderson [the NAACP's former Washington bureau director]. In addition, several members of my family — including my mother — are attorneys.
When did you realize that regulatory (utility) law would be a good fit for you?
When I joined the legal department at Pepco, I had no previous utility legal experience. I was looking for an in-house role in Washington, D.C., and the opportunity at Pepco presented itself. I quickly realized that providing a critical service for all residents, businesses, and tourists appealed to me, and so my career in the utility sector took off.
Formerly you were a vice president at Pepco. What did that job entail?
I served as vice president at Pepco after [almost] five years as associate [and assistant] general counsel [working on] regulatory [matters] for Pepco's D.C. and Maryland jurisdictions. The vice president role is focused primarily on government affairs, and I had a strong background in that space from my previous work on Capitol Hill as well as the [D.C.] Council. Moving into the government affairs role enabled me to use a different set of skills to advance the company's mission.
How do you handle pressure at work, and what's your key to success?
Having a great team around you does wonders to relieve pressure. When I got to DC Water, I inherited a strong legal team, and then took the time to carefully recruit additional attorneys with complementary skills and character traits that would mesh well with the group. I then built out a government affairs team with the same level of intentionality. The result is a very strong team that has my confidence as well as [that of] our leadership and colleagues at DC Water.
Who are some of the mentors who helped shape your career?
Ben Wilson, the recently retired chair of Beveridge & Diamond, has been a mentor and role model since my first years out of law school. In addition, several current and former executives at Pepco (including Beverly Perry, former senior vice president, government affairs, and now Mayor Bowser's senior advisor) have been instrumental in shaping my career.
What advice would you give to a 1L who is trying to find their niche?
In addition to becoming proficient in the basic courses, seek out a variety of electives that might pique your interest, as you will always perform better doing something you enjoy. Beyond that, take the time to build a good network of peers.
How has the D.C. Bar helped you to advance in your career?
I see the D.C. Bar as a common thread that ties together so many of my mentors and fine lawyers in Washington, D.C., to whom I look for guidance (or simply good examples) as I move through my career.