Issues & Trends
Courtwatchers PG Reflects on Progress in Holding Justice System Accountable
August 15, 2023
Prince George's County is the epicenter of a growing national movement to bring transparency and accountability to criminal proceedings. Courtwatch PG, a program developed by local nonprofit Life After Release, trains and organizes volunteers who observe criminal proceedings, take notes, and report back to the organization, which then issues public accountability letters exposing alleged misconduct in the justice system. Both organizations are led by formerly incarcerated Black women.
At a June 24 virtual meeting held by the American Bar Association Section of Civil Rights and Social Justice, Courtwatch PG and its allies gathered to take stock and to encourage the continued expansion of community-based participation in identifying and addressing injustices during criminal proceedings.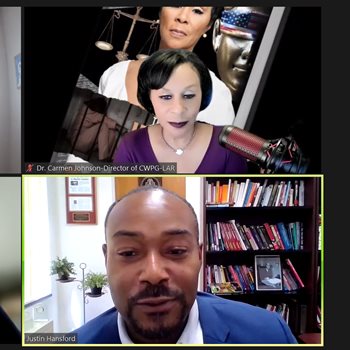 Pictured: Courtwatch PG Director Dr. Carmen Johnson and Howard University School of Law Professor Justin Hansford
Courtwatch PG Director Dr. Carmen Johnson said that the group had trained more than 550 volunteers, including many law students, since she assumed leadership in 2020. "As of right now, we have about 60 volunteers who are active, and of these 60 volunteers, about 30 of them sit on committees," she said. The committees focus on the issuance of accountability letters, social media and media management, legislative campaigns, data management, and collaboration with other court-watching groups.
"We have sent 479 accountability letters since November 2020," Johnson said. The letters are sent to Maryland's chief judge, the deputy of the public defender's office, as well as the state's 10 senators and 27 House of Delegates members on the General Assembly's judiciary committees. Copies are sent to the director of the jail, the state attorney's office, pretrial services, or the chief of police, where the actions of their staff are implicated.
"What we've seen is a great turnaround," Johnson said. "From when I first started in February 2020, they're closer to following the rules than they were in the past. They're more respectful. They know that they are being watched and being held accountable."
Howard University School of Law professor Justin Hansford's students are among those who have worked with Courtwatch PG though his Movement Lawyering Clinic. "Movement lawyering is a new approach to lawyering," Hansford said. "We focus on clients who are mobilized, like Dr. Johnson, as opposed to clients who are vulnerable individuals … clients who are engaged in campaigns of social justice, trying to find ways to help them that go beyond the confines of the courtroom."
Beginning in 2020, about a dozen of Hansford's students began participating in Courtwatch PG, observing bond hearings and drafting reports that detailed their observations, including significant violations of defendant rights. Hansford stressed the meaningful impact of accountability and transparency in the bail system. "Bail reform is one of the more powerful innovations seeking to stop the school-to-prison pipeline and mass incarceration, in general," he said. "Outside of sentencing reform, this is probably one of the most effective approaches to stopping mass incarceration."
Hansford's students were also involved in advocating for continued post-pandemic virtual access to court proceedings, preparing a report earlier this year arguing that remote access allows for greater citizen oversight and participation in the judicial process. On the same day the report was published, a Maryland bill that would have ensured continued virtual access failed to pass. Hansford expressed suspicion about the vote's timing, which prevented many in the General Assembly from reading the students' observations before voting, and he advocates for continued pressure for virtual proceedings nationwide.
"If you did have virtual access to these bail and bond hearings, we would see much more oversight and much more care taken by judges, by prosecutors, and by everyone in the court system to ensure that everyone's rights are respected," Hansford said. "Not only do we think this is appropriate in the state of Maryland, but we [also] think that all over the country, [you should] advocate for virtual access to court proceedings and, in particular, these bail hearings. We also encourage you to engage in court-watching in whatever jurisdiction you visit. We think it's a very important tool in the fight against mass incarceration. As a legal community, I believe it is our responsibility to advocate for access. It is our tax dollars that pay for these prosecutors and judges."
Looking ahead, Johnson said that Courtwatch intends to expand its reach to more jurisdictions and to monitor proceedings in additional courts, such as reentry court, drug court, and mental health court. Hansford said the project's impact should not be underestimated. "A lot of these abuses would not occur if the judges and prosecutors knew that dozens of people were watching them," he said. "That's the bottom line. In just the simple act of watching, of tuning in, we can all make a difference."
Information about getting involved with Courtwatch, or starting your own court-watching program, can be found at courtwatch.org.