Legal Happenings
At WBA Forum, D.C. Circuit Judges Pan and Childs Share Their Journeys to Judgeship
March 07, 2023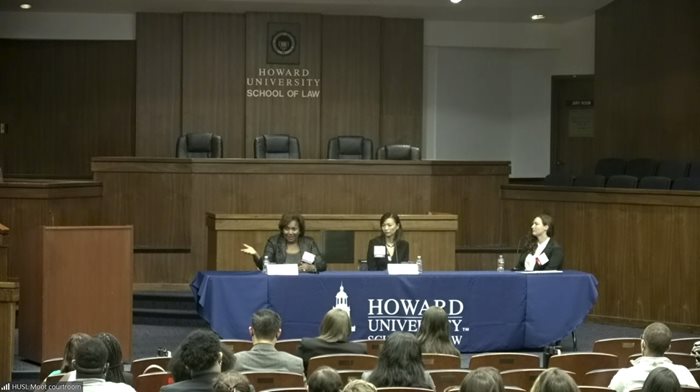 From left: Judge J. Michelle Childs, Judge Florence Y. Pan, and Rosemary Loehr
At a recent program hosted by the Women's Bar Association of the District of Columbia (WBA), D.C. Circuit Court Judges J. Michelle Childs and Florence Y. Pan offered valuable insights into their path to the bench. Interviewed by WBA Litigation Forum cochair Rosemary Loehr, the judges spoke about their personal histories, thoughts on litigation, and professional advice for aspiring judges.
Appointed in 2022, Childs and Pan are both relatively new to the U.S. Court of Appeals for the District of Columbia Circuit, though neither is new to the judiciary. In 2006 Childs became a South Carolina state circuit court judge and served as chief administrative judge for South Carolina's criminal and business courts. She was appointed to the U.S. District Court for the District of South Carolina in 2010.
After joining the U.S. Attorney's Office for the District of Columbia in 2009, Pan served more than a decade as an associate judge with the D.C. Superior Court in its Criminal Division, Family Court, and Civil Division.
Much of the discussion, held at Howard University, centered on clerkships and included advice for the law students in attendance. In applying for clerkships, for instance, Childs underscored the importance of research and writing skills.
"We do so much original writing in the cases," Childs said. "We're doing our own orders. We're not taking what the lawyers are doing and tweaking and refinishing them." She recommended actively seeking for opportunities to draft notes and memos during law firm internships to develop a strong portfolio of writing samples.
But even highly qualified candidates may face challenges securing clerkship. Childs said she recently received more than 200 résumés for a position. "Just the sheer numbers may cause a rejection," she said.
In light of this reality, Pan suggested a flexible approach. "You don't have to have a clerkship to have a really successful career," she said, "but if you really want to, I think you should cast a broad net. There are lots of courts that are not the D.C. Circuit."
"I was a judge for 13 years [on] the D.C. Superior Court. There are [about] 60 judges there, so think about state courts; think about trial level courts. [The District] has administrative law courts. I'm saying there are lots of different kinds of judges, and therefore lots of different clerkships," she added.
Childs agreed. "People tend to focus on the bigger cities, and that's why we're going to have a lot more applicants," she said. "I remember being at a talk about diversity, and there was a white male judge who said, 'I've been telling students, you need to go to Montana. They do the same thing I do . . . they might do mountain law, whereas we do something else over here, but it's one year. You can do one year to just go do that experience, but now you have a clerkship on your application.'"
Pan also shared her experience working with conservative, older, white male Republican-appointee judges. "Many of you might think that they and I don't have a lot in common, but we had a lot in common in the ways that mattered," Pan said, including a love for the law, open-mindedness, and "a desire to do what was right."
"So, one thing I always tell law students is, if you want to apply for a clerkship, don't limit yourself to people who you think are like you," she added.
In fact, a career path that takes one through a wide set of experiences could be an asset. Childs said that her work in state and federal trial courts equipped her to contend with a high volume of work and strengthened her understanding of the legal system in ways that are acknowledged by her peers on the court.
"[Pan] and I will be even better judges because we have that trial court experience," she said, "and I've already seen, in conferences, where judges are deferring to us where there is a particular trial-related experience."