Issues & Trends
At BADC Event, Bar Leaders Call Out Persistent Racial Inequities in the Justice System
February 28, 2023
On February 21, in recognition of Black History Month, the Bar Association of the District of Columbia (BADC) hosted the panel discussion "The State of the Legal Profession and Its Impact on Black America," discussing the stagnant number of Black attorneys in the United States and rallying bar associations to remedy the situation.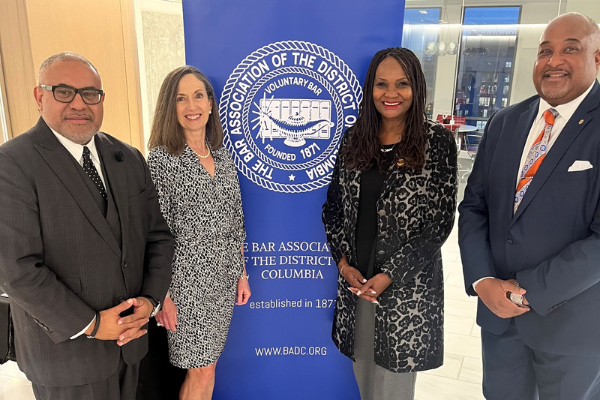 From left to right: Reed Smith partner A. Scott Bolden, D.C. Bar President Ellen Jakovic, ABA President Deborah Enix-Ross, and BADC President Rawle Andrews Jr.
As much as we are trying to expand the pipeline and grow opportunities, we are still finding some recidivism around folks saying, 'I thought law was going to something different than it turned out to be. And not only do I not want to be in a firm, agency, or in law academia, I don't want to be a part of [the profession] at all,'" BADC President Rawle Andrews Jr. said. "As bar leaders, we have to have lawyers who want to be lawyers because of the need for law to be fair and equal. The need for lawyers and judges is greater today than it has ever been."
Elizabeth Paige White, president of the BADC Young Lawyers Division, said the legal profession is in a "state of emergency." White, of counsel at the Ben Crump Law Firm, which specializes in civil rights and personal injury matters, noted the firm's legacy in class action suits against hair relaxer companies whose products have been linked to uterine and ovarian cancer in some Black women customers.
White male attorneys dominate the mass tort space, White said, "but the clients [they] are representing are mostly Black and brown people." Previously, White worked for the Public Defender Service for the District of Columbia and then as an associate at Dicello Levitt, where she advocated for individuals and families hurt by discriminatory systems, police brutality, and predatory corporations.
"On the criminal defense side, I've stood in courtrooms in New York and the District where the judge and prosecutor were both white, while there is a rotating door of Black and brown men accused of crimes," she said. "To me, it comes down to equality versus equity. When we talk about equity, it's about providing resources to people who have backgrounds different from these mostly white attorneys and judges."
American Bar Association President Deborah Enix-Ross, who delivered the program's keynote address, talked about the ABA's history of exclusion since its founding 144 years ago. In 1912 the ABA rescinded the membership of William H. Lewis, the first Black assistant U.S. attorney general, because of racism. The ABA finally passed a resolution in 1943 to end its race-based membership policies, but it wasn't until 1950 that the ABA would admit its Black member and, 53 years later, elect its first Black president, Dennis W. Archer.
With the signing of the Constitution and the Declaration of Independence, Enix-Ross said the United States had signed a "promissory note … that all men would be guaranteed the unalienable rights of life, liberty, and the pursuit of happiness," but it had issued Black America a "bad check" in the form of sanctioned systemic racism.
"So, have we cashed that check in 2023?" Enix-Ross asked. "I think many of us would say 'not yet.'"
"The ABA did a survey in 2022 that asked the question, Is there racial bias built into the judicial system? More than 60 percent of young people answered yes. That's sobering," Enix-Ross said.
The survey also revealed that 48 percent of white people, 54 percent of Hispanics, and 75 percent of Black people believe that there's racial bias built into the justice system. "We have a lack of confidence in our judicial system," said Enix-Ross, who issued a call to action for lawyers to join the ABA and to form alliances with other legal organizations on both sides of the aisle to uphold the rule of law.
Washington Bar Association President Dionna Maria Lewis noted that less than 5 percent of U.S. lawyers identify as Black or African American. From her vantage point, Lewis said this figure translates to a small number of people who are working to fight the mounting injustices facing Black America.
"When people see bar associations engage in wonderful programs working on civil rights efforts, it's usually just a small number of people within those bars [who] make it happen," Lewis said. "So, whether you are trial lawyer, in-house counsel, corporate counsel, or a person with a law degree who works at the Library of Congress and is not doing anything in the legal profession, we need you in the bar association world, and we also need your resources."
White, meanwhile, said that the fight against race-based discrimination in the civil and criminal justice system should not just fall on the shoulders of those within the public interest sector. "We need those attorneys working in [Big Law] firms. We need all kinds of Black lawyers out in the streets. It can't be just us," White added.