Washington Lawyer Wins Two NABE Luminary Awards
September 26, 2022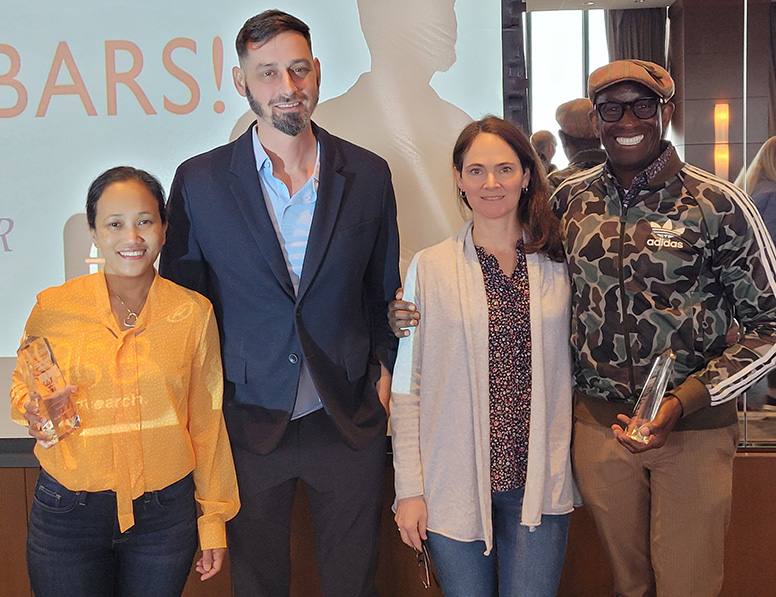 D.C. Bar editors and content producers (from left) Fleur Harris, Jeremy Conrad, Susannah Buell, and John Murph celebrate Washington Lawyer's two Luminary Awards at the 2022 NABE Communication Section Workshop.
For the third time in a row, the D.C. Bar's Washington Lawyer magazine won best publication among large bars at the National Association of Bar Executives (NABE) Communication Section's 2022 Luminary Awards in Minneapolis, Minnesota, on September 23. The magazine also took home the best authored article award for its feature story on legal deserts.
The Luminary Awards are held each year as part of the NABE Communication Section Workshop, where communications leaders and specialists from bar associations across the country gather for professional development and networking opportunities. The annual awards honor outstanding bar communications projects, including regular publications; PR, marketing, or social media campaigns; authored articles; graphic design; and special projects.
Washington Lawyer was recognized for excellence in regular publications in 2019 and 2021. As with most events planned before the pandemic, the 2020 workshop and awards were canceled for the health and safety of attendees.
John Murph's "Legal Deserts: No-Man's Land of Affordable Legal Help," which appeared in the November/December 2021 issue of Washington Lawyer, won praise from judges for spotlighting a lesser-known facet of the justice gap — lawyer shortages in urban neighborhoods of U.S. cities with a high concentration of lawyers, including Washington, D.C. "When it comes to access to legal services in the District of Columbia, it is a tale of two cities depending on which side of the Anacostia River you live," Murph wrote.
Returning as an in-person event this year, the NABE Communications Section Workshop featured discussions around the theme "You're Gonna Make It After All," including a keynote speech by well-known attorney mental health and well-being expert Patrick Krill of Krill Strategies.
As bar associations and the rest of the legal community begin to move forward in a post-pandemic world, Krill underscored the importance of connections; mentoring and support; empathy, civility, and professionalism; and access to educational resources to promote wellness in the legal profession.