Meet President-Elect Candidate Alexander Reid
March 27, 2023
The D.C. Bar's 2023 general and Communities elections will run from April 28 to June 1. Eligible voters will receive an email link to their ballots via Survey & Ballot Systems, an independent vendor administering the elections. Voting will be held exclusively online.
Results of the elections will be announced on the Bar's website and during the 2023 Celebration of Leadership on June 22.
Here, get to know Alexander L. Reid, one of two candidates running for D.C. Bar president-elect for the 2023–2024 term. The president-elect serves for one year before becoming president, and then continues in office a third year as immediate past president.
---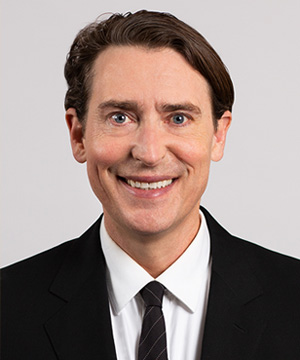 Getting more members actively involved in the D.C. Bar will be Alexander Reid's main mission if elected Bar president for the 2024–2025 term. For Reid, it's part of a greater diversity, equity, and inclusion initiative — he wants to know who's not at the table and why.
Reid is a partner at Baker & Hostetler LLP, where he leads the firm's tax-exempt organizations and charitable giving team. At the D.C. Bar, Reid has a long history of involvement and leadership, including serving as chair of the committee that led the transition of the Bar's Sections to its current Communities over five years.
Reid wants to drive up member engagement, theorizing that some attorneys do not actively participate because they feel they have nothing substantial to offer. "[But] I believe everybody has something to offer, and their voices should be heard," he says. "I want the Bar to lower the barriers to entry, reach out, and bring people out of hiding so that we have more participation in all of our events, programs, and networking. Then we can better use the incredible diversity of the D.C. Bar to benefit all members."
One of his first initiatives if elected president is to conduct a membership survey to "help identify the gaps in things that we offer and identify the people who are not participating," Reid says. "I want to fill those gaps with offerings to appeal to everybody, and to bring those who are not at the table out of the woodwork so that we can learn from them [and] benefit from what they have to offer."
In addition to serving as Communities Committee chair, Reid also led the previous Tax Section Steering Committee and the Taxation Community's Tax-Exempt Organizations Subcommittee. He is vice chair of the ABA Section of Taxation's Exempt Organizations Committee and former regulatory affairs chair of the TEGE Exempt Organizations Council.
Reid believes his experience with tax-exempt organizations makes him the ideal president because the D.C. Bar and the D.C. Bar Pro Bono Center are mission-focused organizations. He says he has devoted nearly his entire career to studying and helping similar entities.
"Federal tax law distinguishes between organizations that are intending to generate a profit and distribute that profit to shareholders versus organizations that, even if conducting business, reinvest the proceeds of that business into achieving a mission," Reid explains. "The D.C. Bar and Pro Bono Center fall into that latter category."
"There are a lot of complex tax and governance rules that apply, particularly to organizations of this kind, which are, in addition to being tax-exempt entities, also quasi-governmental entities because the D.C. Bar is itself part of the federal courts system, and D.C. is part of the federal government, even though it's also partly independent," he adds.
Reid is ready to tackle the new challenges facing mission-oriented organizations like the D.C. Bar, such as a renewed emphasis on clearly articulating their value proposition to members. "What do we do and why? I think it is an excellent time to dig into that question and consider it," he says.
Another is the reinvention of work in a post-pandemic environment. "Being able to work from anywhere frees up energy [in organizations] to focus on more ideological notions of who they are. They can really construct their identity and define their mission separately from their physical presence. That is quite liberating for a lot of organizations," Reid says.