Local Students See the Law in Action at 2023 Youth Law Fair
March 21, 2023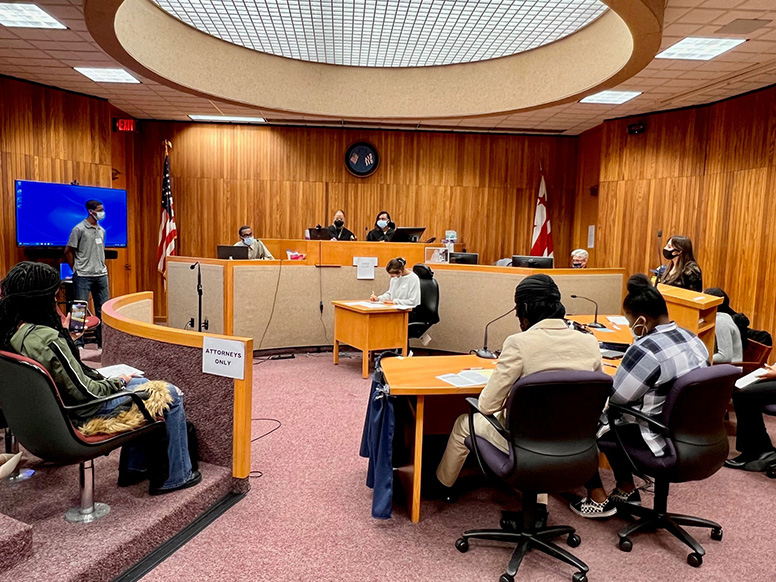 On March 18 more than 100 local middle and high school students attended the 24th annual Melvin R. Wright Youth Law Fair, held in person at the D.C. Superior Court for the first time since the pandemic. Cosponsored by the D.C. Bar Communities and George Washington University Paralegal Studies Bachelor's Program, the fair provides students an opportunity to tour courtrooms, visit exhibit halls, and, more importantly, gain a realistic perspective on court proceedings by participating in mock trials as judges, jurors, prosecutors, defense attorneys, and witnesses under the guidance of D.C. judges and D.C. Bar members.
Malachi Robinson, a student at St. Anselm's Abbey School, said that before participating in the Youth Law Fair he never understood how courts operate. "I've never been in [a courtroom] before," Robinson said. "I've only seen it on TV. To see it in person was cool." Robinson said he hopes to follow in his mom's and aunt's footsteps working in criminal justice.
D.C. Superior Court Judge Kenia Seoane López designed this year's moot court fact pattern, "Don't Get Caught Up: Criminal Conspiracy." It involved two teens entangled in an armed robbery of a coat and headphones on U Street, N.W. Elements of the criminal conspiracy included text messages between the teens about committing the crime, and one teen being unaware of the other possessing a gun.
"I thought it would be interesting to show them just how vulnerable they could be even if they have a conversation with someone about committing a crime," López said. In many criminal conspiracy cases in juvenile court, Lopez said she often saw the look of surprise on defendant youths' faces when they were charged with crimes they unwittingly participated in.
Kevin Jones, head of the Guide Right program, a youth mentoring group sponsored by the Washington, D.C., Kappa Alpha Psi fraternity, has been bringing young Black male students to the Youth Law Fair since 2017. "A lot of the times when the youth come here in the courthouse, it's not by choice," Jones said. He said the kids involved in the Guide Right program are often excited to attend the Youth Law Fair because it allows them to see how courts work.
In her welcoming remarks, D.C. Superior Court Chief Judge Anita Josey-Herring said the annual fair aims to inspire young people to consider pursuing collegiate studies and careers in the law. "Showing up is a pathway to success. Remember that for the rest of your life," Josey-Herring said. "If you show up, you might get jazzed up with something that connects; you might learn something. We're hoping that you learn something today."
Also addressing the students, D.C. Bar President Ellen Jakovic said the Youth Law Fair is an opportunity for students to build on their critical thinking and persuasive, concise, and clear communication skills that will be valuable to them regardless of what profession they pursue. "These are skills that will serve you well in college, regardless of the course of study you plan to follow," Jakovic said. "These are skills that will help you excel in your career and in life."