Former D.C. Superior Court Judge Sylvia Bacon, Once Highest-Ranking Woman U.S. Attorney, Passes Away
May 09, 2023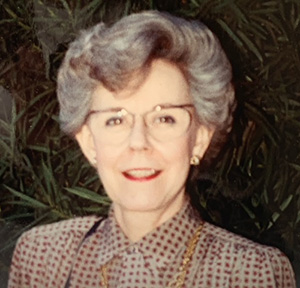 Retired D.C. Superior Court Judge Sylvia Adelaide Bacon, who served more than two decades on the bench and was once the highest-ranking woman in any U.S. Attorney's Office, died on April 29 at age 91.
Bacon earned her law degree from Harvard University in 1956, when the school admitted few women. She clerked for Judge Burnita Shelton Matthews of the U.S. District Court for the District of Columbia, who was the first woman to serve on a U.S. district court. Bacon earned a master of laws degree from Georgetown University Law Center during her clerkship.
In 1965 Bacon was appointed by President Lyndon B. Johnson as one of three assistant directors to the President's Commission on Crime in the District of Columbia charged with improving the administration of criminal justice and addressing special problems in criminal law. Retired D.C. Superior Court Senior Judge Peter H. Wolf, who worked under Bacon during that time, said the late judge played a critical role in the eventual drafting of the District of Columbia Court Reform and Criminal Procedure Act of 1970, which paved the way for the reorganization of the District's court system, including the creation of the new D.C. Superior Court. "It was a monumental task of gradually phased-in expanding jurisdiction. The commission's thousand-page report did not just gather dust, thanks to her. I believe our court system has evolved to a model for the nation," Wolf said. "We all owe her a great deal."
In 1969 Bacon was hired as assistant U.S. attorney for the District, a role in which she oversaw the office's management, legislative affairs, and public relations. No woman held a higher position at a U.S. Attorney's Office at the time, according to the Washington Post.
During her time with the U.S. Attorney's Office in Washington, no woman attorney was allowed to try criminal cases, either, but Bacon found a way, volunteering on weekends to create charging documents for those arrested over the weekend and trying those cases.
Bacon was appointed to the D.C. Superior Court in 1970, serving on that court until her retirement in 1991. She was considered by two presidents for appointment to the U.S. Supreme Court — by President Nixon in 1971 and by President Reagan in 1981.
D.C. Superior Court Judge Heidi M. Pasichow, who clerked for Bacon in 1983, recalls the late judge as a role model, mentor, and advocate on behalf of women in the legal profession. "Judge Bacon had extraordinary determination and the unsurpassed ability to give and to give more," Pasichow said. "She was not deterred by the hurdles that she encountered as a woman in the legal profession, but instead faced each challenge with grace, dignity, and refueled determination. She took her achievements as a calling to offer her hand to the young women in the law — whether a student, a law clerk, or young lawyer early in their career — to advance the visibility and successes of these women in the profession. She certainly enhanced the trajectory of my professional life."
Among those who benefited from Bacon's guidance were judges new to the bench who frequently shadowed her and relied upon her for advice, resulting in a lasting impact on the court's culture, Pasichow added.
In a statement, Superior Court Chief Judge Anita Josey-Herring said that the words "dedicated, committed, caring, and compassionate" come to mind whenever Judge Bacon's name was brought up in conversation. "Judge Bacon was an educator and mentor to so many — both in and outside the courthouse — and her legacy on this court will live on for generations to come by those that work here and for the thousand[s] that we serve every year," Judge Josey-Herring said.
Following her retirement from the bench, Bacon joined the National Institute for Trial Advocacy (NITA), where she taught young lawyers effective trial court advocacy skills and co-led the organization for 13 years with trial attorneys Daniel E. Toomey and the late Daniel G. Grove.
Toomey said NITA participants and colleagues appreciated Bacon's talent for organization. "She was just the most terrific person to work with. She was organized. She was meticulous. She was of a particularly intellectual bent. There is no one that I've known that was more devoted to the law," he said.
Bacon's surviving family includes cousins, nieces, and nephews. One cousin, Sara Kambestad, who is a paralegal at Venable LLP's Los Angeles office, said Bacon influenced her decision to enter the legal profession.
"She was really the pride of our family," Kambestad said. "Ever since I was a little kid, I heard about Cousin Sylvia and all the things she was doing … a kid from Watertown, South Dakota, who went to Washington, D.C. She was an amazing person."