Experts Predict Another Transformative Supreme Court Term
September 26, 2022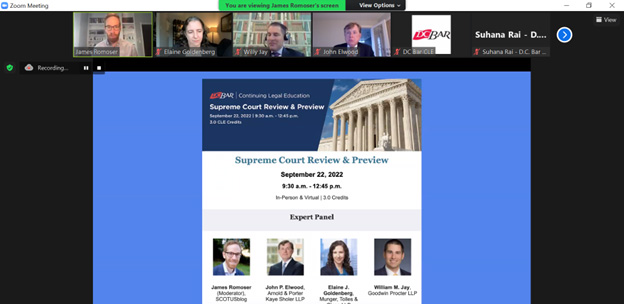 The U.S. Supreme Court's decisions in its 2021–2022 term shifted the ground under U.S. law, greatly impacting courts, governmental actions, and individuals' rights regarding speech, religion, guns, and, most dramatically, access to abortion. Court watchers predict more consequential decisions in the upcoming term beginning this October.
The marked conservative shift of the Court provided the opening background for the D.C. Bar's annual "Supreme Court Review and Preview 2022" on September 22, where panelists also discussed prominent religion, speech, affirmative action, and voting regulations cases on its 2022–2023 docket.
Moderator James Romoser, editor of SCOTUSblog, began with a statistical analysis of the recent term, which had an unusually high number of cases with 6–3 votes (19) and the lowest number of unanimous decisions (18) in a decade. "Many of those 6–3 decisions were what we describe as ideologically polarized — all the Republican appointees voting for one outcome and all the Democrat appointees voting for another," Romoser said.
Elaine Goldenberg, partner at Munger, Tolles & Olson LLP, said the Court applied a rational basis review in Dobbs v. Jackson Women's Health Organization, finding that there is no fundamental right to an abortion and leaving it to states to set their own abortion laws.
Goldenberg said the majority decision and Justice Brett Kavanaugh's concurrence attempted to reassure that the Dobbs decision would not affect other fundamental rights found to be protected under the liberty guarantee of the 14th Amendment's Due Process Clause, such as same-sex marriage, interracial marriage, same-sex intimacy, and contraception.
This reassurance, however, is not convincing, Goldenberg added. "There is a factual distinction the majority drew, but not so much a logical distinction. In other words, the test, the reasoning of this decision, does by its nature call those other decisions into question," said Goldenberg, who has argued 12 cases before the Supreme Court.
According to Goldenberg, the majority's hope that its decision will take the abortion debate out of courts is belied by the many states where abortion is now outlawed or severely limited or where the law is in flux. Goldenberg cited looming restrictions ranging from travel bans to liability for aiding and abetting to obstacles to receiving abortion drugs in the mail as some of the consequences post-Dobbs that signal conflicts between states and a lot of litigation ahead.
The panelists also looked at the Court's decision in New York State Rifle & Pistol Association, Inc. v. Bruen, another transformative case that upended constitutional interpretation. John Elwood, head of the appellate and Supreme Court practice at Arnold & Porter LLP, said the case is another prime example of an emboldened conservative 6–3 majority. In the past, the Court was generally reluctant to further expand on Second Amendment rights since its decisions in McDonald v. Chicago (2010) and District of Columbia v. Heller (2008). "In the years and years after McDonald, the Court did not address the extent to which states may regulate the carry[ing] of firearms outside the home," Elwood said. "But Justices Alito, Thomas, and Gorsuch bemoaned the Second Amendment status as a second-class right."
In New York State Rifle & Pistol Association, the Court held as unconstitutional New York's proper-cause requirement to obtain a concealed carry permit and shifted the burden onto states for justifying regulations historically consistent with original interpretation.
Elwood said this is a departure from constitutional litigation centered on tiers of scrutiny and application of pertinent tests. "[The Court] kind of brushed this aside and said if it is within the original meaning of the Constitution, see if there is a history of permitting this legislation."
For the upcoming term, the panel focused on a pair of affirmative action cases, a case involving sexual discrimination paired with religious rights, and a voting regulation case.
The affirmative action cases, Students for Fair Admissions, Inc. v. President and Fellows of Harvard College and Students for Fair Admissions, Inc. v. University of North Carolina, were originally consolidated but disjoined with the appointment of Justice Ketanji Brown Jackson. Jackson, who previously served on Harvard University's Board of Overseers, said she would recuse from the Harvard case.
The cases have some dissimilar aspects (with North Carolina being a public institution and Harvard a private one), but the stare decisis issue of diversity as a compelling interest will certainly come up in both. William Jay, partner at Goodwin Procter LLP, pointed out that associational standing issue might arise in both cases with their identical plaintiff group, Students for Fair Admissions (SFFA). In the Harvard case, SFFA asserts associational standing based on the circumstances of 13 of its members, 7 of whom are Asian American who applied to and were rejected by the university.
The case 303 Creative LLC v. Elenis involves a Colorado graphic design firm that refuses to design websites for same-sex weddings on religious grounds. Elwood said that 303 Creative continues a line of inconclusively resolved matters involving the question of "what do you do when you have nondiscrimination that interacts with free speech/free exercise claims?" He added, "Religious liberty and speech involving religious expression is really extended now," alluding to better chances for petitioners.
Perhaps the most significant case before the Court in the coming term is Moore v. Harper. Relying on the controversial independent state legislature theory, the petitioners in the North Carolina gerrymandering case are arguing that state legislatures alone are empowered by the Constitution to regulate federal elections without state court oversight.
The panelists also touched on the legacy of Justice Stephen Breyer, who served on the Court from 1994 until his retirement this past June and who often had an incremental approach to legal issues. Jay commented that on a number of occasions, Justice Breyer "wrote relatively narrow, 'let's vacate and remand type' opinions as a result of being able to get a core of the Court, sometimes even a lopsided majority of the Court, behind a narrower decision."
Justice Jackson, Breyer's replacement, begins at a different, very polarized time, but nonetheless generates excitement. Goldenberg recalled Jackson as a District Court judge who was "incredibly impressive, commanding in argument, making sure everyone was thoroughly heard and the best arguments were aired and discussed."
"Given the current composition of the Court, you can expect she'll be writing a fair number of dissents, which I think somebody called 'letters to the future.' So, there will be a lot of [that] from her, but I think it will be very interesting to see what she has to say," Goldenberg added.
In an interview after the event, Romoser said that this year's annual review is important for practitioners because the Supreme Court has changed the law "very quickly and dramatically."
"It is important for practitioners to understand not just how the law is changing substantively but also methodologically," Romoser said. "And I think the seminal example of that is originalism and how many lower courts are taking cues from the commitment to an originalist approach that we see on the Supreme Court right now."