D.C. Bar Releases Newly Updated District of Columbia Practice Manual
October 14, 2020
The District of Columbia Practice Manual, 28th Edition is now on sale. Produced by the D.C. Bar Communities, the two-volume, soft-cover treatise covering the basics of law in the District brings together the collective knowledge of hundreds of experienced practitioners in 35 chapters.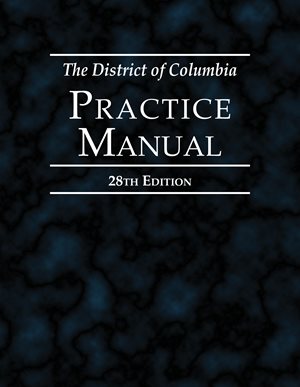 The comprehensive manual contains chapters on administrative procedure, alternative dispute resolution, antitrust, appellate practice in the D.C. Court of Appeals, art law, child abuse and neglect, commercial law, consumer protection, corporate practice, criminal law and practice, criminal traffic offenses, domestic relations, employment law, environmental law, finding the law of the District of Columbia, government contracts, Health Maintenance Organization Act, human rights, insurance law, intervention proceedings, juvenile law and practice, landlord and tenant practice, legal ethics and lawyer discipline, mental health proceedings, partnerships, personal injury, political law, real property, small claims, Superior Court civil practice, taxation, U.S. District Court civil practice, wills and estates, workers' compensation, and zoning and historic preservation.
Purchase of this year's manual includes a fully searchable digital edition, with a table of contents that links to corresponding sections of the book. Get your copy today.
A must-have resource for every D.C. practitioner, the Practice Manual is updated every two years. The next edition will be available in 2022.