D.C. Bar Announces 2022 Annual Award Winners
May 04, 2022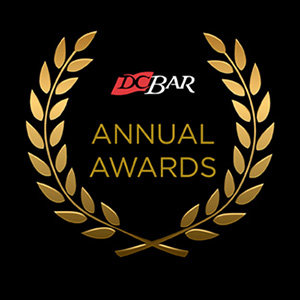 The District of Columbia Bar congratulates the winners of its 2022 Annual Awards, honoring individuals and organizations whose work helped ensure the advancement of the profession and enrichment of the legal community. The awardees' contributions include the promotion of important social justice issues, the provision of volunteer services that expand access to justice, and the development of projects and initiatives that support these goals.
Frederick B. Abramson Award
D.C. Bar Pro Bono Center Training Program
The D.C. Bar Pro Bono Center recruits, trains, and mobilizes volunteer attorneys to serve the needs of D.C. residents living on low incomes, community-based nonprofit organizations, and local small businesses. In 2021 the Pro Bono Center's training program set registration records, developed innovative programs, and formed new partnerships to meet the increased demand for free legal assistance.
As the District enacted new protections to help low-income residents during the COVID-19 pandemic, the law and regulations evolved rapidly. The Pro Bono Center Training Program highlighted key changes to prepare new pro bono attorneys to serve their neighbors in need. The training program broke records both in the number of events it presented and the number of volunteer attorneys it trained. Prior to the pandemic, the training program held approximately 15 to 20 training events each year, reaching 500 to 600 legal professionals. In 2021 the program expanded rapidly, offering 33 live and virtual training events that drew 1,684 registrants.
Community of the Year
Estates, Trusts and Probate Law Community
Although the Estates, Trusts and Probate Law (ETPL) Community has less than 1,200 active members, it hosted more than 10 educational programs in 2021 and routinely provided communications to its members regarding current issues. The ETPL Community sponsored two distinct sets of programming in 2022: a guardianship and probate series and an estate and tax planning series. Each program focused on a variety of timely issues to ensure ETPL Community members keep up with the most recent developments in the law. Topics included landlord–tenant issues in probate and guardianship cases in response to the issuance and lifting of the eviction moratorium, cryptocurrency in estate and tax planning, and how to better serve families in distress.
Voluntary Bar Association of the Year Award
Women's Bar Association of the District of Columbia
Since 1917 the Women's Bar Association of the District of Columbia has been advocating for women's place in the legal profession by fighting for equality, advancement, and social justice. Its 2021 calendar year covered two WBA fiscal periods that operated under the themes "The Importance of Allies and Friends" and "Getting Back to the Basics," reflecting the work and programming the WBA hosted throughout the year. The organization continued to provide exemplary service to its more than 600 members, the legal profession, and the greater community through its amicus brief work, judicial endorsements, and member resources such as Discussing Racism and Being Anti-Racist Toolkit, Career Toolkit, and Meet a Member Wednesdays. In 2021 the WBA also launched its inaugural Monica Parham Memorial Diversity, Equity, and Inclusion Award. The WBA closely works with its sister organization, the WBA Foundation, to support the legal needs of women and girls in the D.C. area, as well as with other voluntary bar associations by co-sponsoring numerous programs.
Pro Bono Law Firm of the Year Award
Skadden, Arps, Slate, Meagher & Flom LLP
In 2021 Skadden's Washington, D.C., office continued its long tradition of devoting
thousands of pro bono hours to helping the neediest residents of the District of Columbia and addressing pressing issues confronting the community. More than 87 percent of the firm's D.C. lawyers worked on a wide variety of pro bono projects, spending more than 36,000 hours or the equivalent of more than 9 percent of their billable time. Skadden lawyers represented many D.C. residents in D.C. Superior Court on landlord–tenant, family law, domestic violence, and criminal matters, among others. In 2021 more than 150 D.C. office lawyers and legal professionals provided immigration representation in approximately 70 separate immigration matters (some on behalf of multiple family members). Transactional attorneys provided guidance to a number of local nonprofit organizations and collaborated with D.C. advocacy groups on several projects. As one of the pilot firms that helped launch the Landlord Tenant Resource Center in 2004, Skadden regularly staffs the center with three lawyers. Skadden volunteers continued to fulfill their commitment to this important community service throughout the COVID-19 pandemic, seamlessly transitioning to virtual assistance. While much of Skadden's D.C. office pro bono work is focused on local matters, its lawyers also devoted substantial time to several high-profile, high-impact pro bono cases in 2021, including a Fourth Amendment case that won a unanimous victory in the U.S. Supreme Court.
Laura N. Rinaldi Pro Bono Lawyer of the Year Award
Cassandra Rasmussen, King & Spalding LLP
In addition to her work at King & Spalding on behalf of drug and medical device companies, Cassandra (Cassie) Rasmussen volunteered more than 480 pro bono hours last year. In 2020 she contributed more than 190 hours representing District residents in pro bono matters involving Social Security disability benefits, asylum, child custody, and civil protective orders. She has teamed up with the D.C. Bar Advocacy & Justice Clinic, the DC Volunteer Lawyers Project, and the National Center for Lesbian Rights. At the DC Volunteer Lawyers Project, Rasmussen has dedicated 415 hours of pro bono service over the past four years, serving its Legal Help Line and Family Law and Protection Order Clinics.
The award winners will be honored at the D.C. Bar's Celebration of Leadership on June 23. The Bar will also present its 2022 Beatrice Rosenberg Award for Excellence in Government Service to Susan K. Pascocello, senior advisor at the United States Agency for International Development's Office of General Counsel, and its 2022 Thurgood Marshall Award to Judith Sandalow, executive director of the Children's Law Center.