Bagel Competition Raises $274K for Tzedek DC
September 24, 2020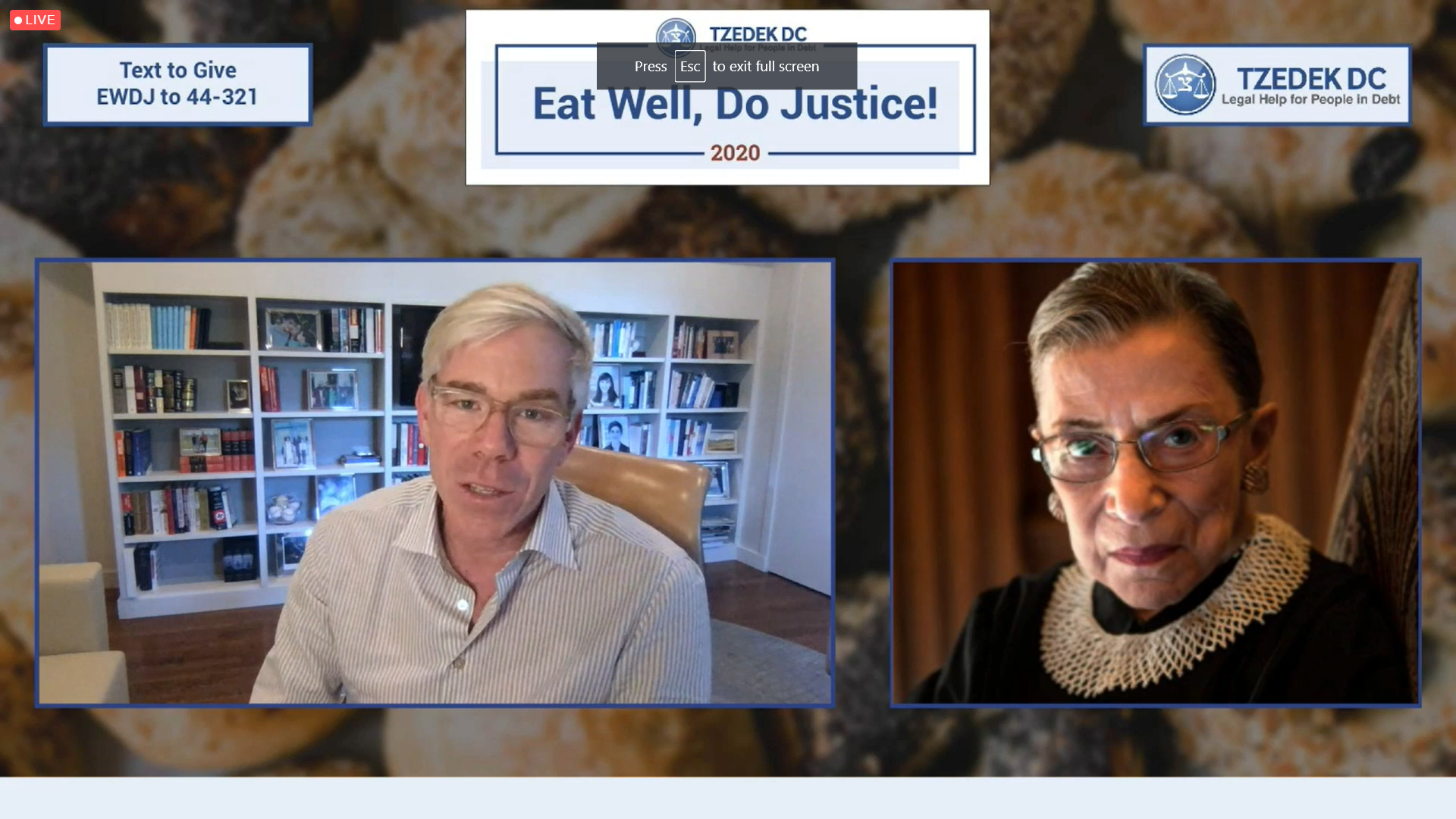 Television journalist and author David Gregory hosted Tzedek DC's fourth annual Eat Well, Do Justice! fundraiser.
Allee and Oliver Cox, owners of Pearl's Bagels, won over both the public and the judges to take first place in Tzedek DC's fourth annual Eat Well, Do Justice! fundraiser. This year's event, a bagel competition held virtually on September 21, one day after Rosh Hashanah, raised a record $274,000. The proceeds will bolster Tzedek DC's mission of providing legal help for low-income District residents struggling with unjust, abusive, and illegal debt collection practices.
The three other contestants were Jeremiah Cohen, owner of Bullfrog Bagels; Yael Krigman, owner of Baked by Yael; and Andrew Dana and Daniela Moreira, owners of Call Your Mother deli.
"My favorite bagel [in the contest] was Pearl's Bagel," said judge Michelle Singletary, columnist for The Washington Post's "Color of Money." "I liked that it was light, and the crust was crispy. I could taste the red bell peppers and cream cheese."
Judy Lichtman, senior advisor at the National Partnership for Women & Families, and Ed Hardy, last year's winner of the Eat Well, Do Justice! knish contest, also served as judges.
Emmy-award-winning television journalist and author David Gregory hosted the event, which included musical performances by singer Anthony Mordechai Tzvi Russell and indie rock band The War on Drugs.
Tzedek DC started off with a brief but illuminating history of how the bagel came from Polish Jews to North America — initially in Montreal, Toronto, and New York City. Then the organization highlighted some of its work in the D.C. community with a video presentation that included testimonials from former clients.
At-large D.C. Councilmember Elissa Silverman made a special appearance at the event, speaking highly of Tzedek's partnership with her office to champion legislation and implement laws to stop the suspension of driver's licenses for small amounts of debt owed to the D.C. government. "No one should lose the right to drive and to be able to work and support their families due to a traffic fine," Silverman said. "Tzedek's work is even more critical at this time, when families in our city are facing an incredible economic crisis due to COVID."
"When the current temporary prohibition on new debt suits and wage garnishment ends, which is currently scheduled for early December, we project that over 1,200 debt collection lawsuits will be filed each month against D.C. residents," said Ariel Levinson-Waldman, Tzedek's founding president and director-counsel. "That's nearly twice the pre-pandemic number."
At-large D.C. Councilmember Robert C. White Jr. also weighed in on the significance of Tzedek's efforts to help low-income people facing financial debt during the pandemic. "Thanks to the work that we've done together, people impacted by COVID-19 will not have negative impacts on their credit reports," White said. "They won't be targeted by their landlords and other people who view credit reports. This is a huge win for people who are in desperate need right now."