Filing a complaint against an attorney is a serious matter. Do so only as a last resort when all efforts to work out the problem with your attorney have failed.
You may fill out a complaint form below, or you may write your own statement in lieu of filling out a form. Your statement should clearly include your name, address, phone number, and the details of your complaint. Supporting documents, such as copies of a retainer agreement, proof of payment, correspondence between you and the attorney, the case name and number if a specific case is involved, and copies of documents filed in connection with the case, will be useful to our investigation.
Sign and date the complaint form or written statement, attach any relevant documents you have, and send it by email to [email protected], fax to 202-638-0862, or mail to:
Office of Disciplinary Counsel
District of Columbia Court of Appeals
515 5th Street NW
Building A, Suite 117
Washington, DC 20001
For FAQs related to the complaint process, click here.
Complaint Forms for General Public
Download a version of the complaint form from the list below:
Complaint Forms for Incarcerated Complainants:
Download a version of the complaint form from the list below:
Confidentiality
Disciplinary Counsel may not publicly disclose that the complaint has been filed. The D.C. Rules of Professional Conduct requires the Disciplinary Counsel to treat complaints as confidential matters until the attorney has been served with a petition instituting formal charges or has agreed to be formally disciplined.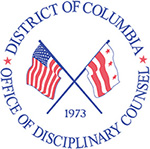 Office of Disciplinary Counsel
District of Columbia Court of Appeals
515 5th Street, NW
Building A, Suite 117, Washington, DC 20001
Phone: 202-638-1501
Fax: 202-638-0862