Remembering Former D.C. Bar President George Jones
May 09, 2023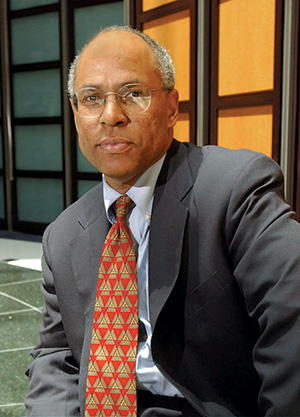 Family and friends of the late George Washington Jones Jr. will gather at Hines-Rinaldi Funeral Home on May 13 to celebrate his life and legacy as a lawyer, advocate, and family man. Jones was a valuable member of the D.C. Bar with a long history of service, including as general counsel, member of the Legal Ethics Committee, member of the Board of Governors, and, finally, president of the Bar.
Jones succumbed to complications from ALS on March 30 at age 69. He is survived by his wife of 45 years, Loretta Pleasant-Jones; his four children, Melissa Khenane, George Pleasant-Jones, Roberto "Tito" Alarcon, and Jessica Pleasant-Jones; and five grandchildren.
Former Bar president Myles Lynk remembers Jones as a passionate and intense lawyer. "When he spoke, [it was] with exclamation points," said Lynk, who served with Jones on the D.C. Conference for Opportunities for Minorities in the Legal Profession in the mid-1990s. "He was very passionate about diversity and about improving the profession."
Shirley Ann Higuchi, who succeeded Jones as president, said it was an honor to have served alongside her colleague. "George was a tremendous influence, mentor, and friend. His warmth, kindness, and intellect carried us through his term as president and mine that followed," Higuchi said. "One of his greatest coups was getting Justice Ruth Bader Ginsburg to speak at the Celebration of Leadership dinner, and I secured Senator Daniel K. Inouye. We always reminisced about that wonderful evening."
Born on July 27, 1953, in Baltimore, Maryland, Jones graduated from Frederick Douglass High School in 1971 and attended the University of Chicago, where he majored in political science and earned his bachelor's degree in 1975. Three years later, he earned his juris doctor degree from Yale Law School.
After clerking for Judge Philip Tone on the U.S. Court of Appeals for the Seventh Circuit in Chicago, Jones joined the Washington, D.C., office of O'Melveny & Myers LLP as an associate in 1979. A year later, he moved to the U.S. Department of Justice as assistant to the solicitor general, where argued the first five cases of his career before the U.S. Supreme Court. He returned to Big Law in 1983, joining Sidley Austin Brown & Wood LLP and becoming partner in 1988 with a focus on antitrust litigation.
"I've also developed a subspecialty in professional responsibility issues, advising lawyers about ethics issues arising in malpractice claims [and] disputes among partners," Jones told Washington Lawyer in 2002 shortly after taking office as president of the D.C. Bar. In January 2014, he became senior counsel at Sidley Austin, serving in that capacity until he retired in 2019.
Jones was a member of the ABA Commission on Ethics 20/20, which reviewed the ABA Model Rules of Professional Conduct and the U.S. system of lawyer regulation in light of advances in technology and changes in the global practice of law. He also served on the ABA Standing Committee on Ethics and Professional Responsibility.
He also served on the D.C. Bar's Legal Ethics Committee from 1991 to 1997. Leah Wortham, former vice chair and then chair of the committee in the early 1990s, said she had the pleasure of serving with Jones during those years. "He was always there — contributing in meetings, researching and writing opinions, doing whatever was needed — always with intelligence and good humor."
Jones was a staunch advocate of pro bono service, implementing during his term the then-recently created D.C. Bar Pro Bono Initiative, where the District's largest law firms pledge to provide pro bono legal services at specified levels.
Throughout his career, Jones was active in several organizations, including the Legal Counsel for the Elderly, the Lawyers' Committee for Civil Rights Under Law, the Washington Lawyers Committee for Civil Rights and Urban Affairs, and the Historical Society of the D.C. Circuit.
Asked in 2002 about the joys of the legal profession, Jones told Washington Lawyer, "I find it gratifying to be able to help people who are struggling with some pretty serious problems. I like being an advocate for a client. I find the research and the writing to be intellectually stimulating, and the litigation process can be interesting and exciting as well."
In lieu of flowers, Jones's family suggests that donations be made to the ALS Association, which assisted Jones during his illness.