Judicial & Bar Conference Opens With Chief Judges' Report on COVID-19 Impacts on D.C. Courts
April 23, 2021
The coronavirus pandemic disrupted nearly every sector in society in 2020, including the judiciary, forcing courts to innovate and transition some of their proceedings and services online to keep the wheels of justice turning during the crisis. The D.C. Courts were no exception, and at yesterday's 2021 Judicial & Bar Conference, the chief judges reported that the courts not only weathered the abrupt changes but also came out strong.
"If this year has taught me one thing, it is that I am so fortunate to work with an incredible group of committed judges, managers, and staff," D.C. Court of Appeals Chief Judge Anna Blackburne-Rigsby said in her welcoming remarks. "And we have a legal community that is committed to ensuring access to justice, especially in the most difficult and challenging of times."
The two-day conference, a biennial event presented jointly by the D.C. Courts and the D.C. Bar, went virtual this year and explored how COVID-19 has reshaped the legal profession.
The State of the Courts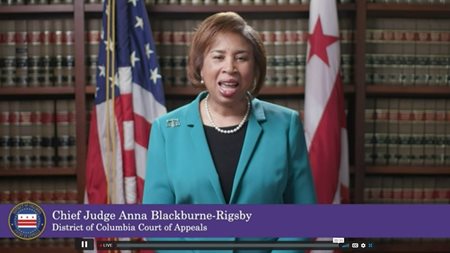 In her report, Blackburne-Rigsby said the D.C. Court of Appeals' interactive online system helped more than 87,000 callers get the information they needed regarding courtroom proceedings during the pandemic. The court's Center for Education and Training also conducted numerous programs to assist court employees and managers during the transition, the chief judge said.
The court received two grants from the State Justice Institute, enabling it to conduct an operational assessment as well as a review of its high-volume landlord and tenant mortgage foreclosure and debt collection courts.
In October 2020, the Court of Appeals entered uncharted territory when it administered the D.C. bar exam remotely for the first time to nearly 17,000 applicants. "We were especially pleased at the high number of applicants who took the very first remote bar exam, bolstered by our Committee on Admissions having initiated reciprocity agreements with 12 other jurisdictions," Blackburne-Rigsby said. In February 2021, nearly 900 applicants took the Uniform Bar Exam.
In her first Judicial & Bar Conference address, D.C. Superior Court Chief Judge Anita Josey-Herring said that when the pandemic struck, the court's civil division quickly and dramatically expanded the types of cases eligible for electronic filing. "The division partnered with electronic service provider XPrize to create several helpful videos to guide self-represented filers through the electronic filing process, [and facilitated] ongoing collaboration with legal service providers and external stakeholders," the chief judge said.
"We currently have 86 or more courtrooms with WebEx access information and links, as well as a tip sheet available on a coronavirus page," she added.
Josey-Herring also reported that last year, the Superior Court's criminal division implemented the Electronic Evidence Initiative, which enables prosecutors and defense attorneys to submit trial exhibits electronically. Additionally, the court's domestic violence division's remote clerk's office has been operational since March 2020.
Widespread Impact of the Pandemic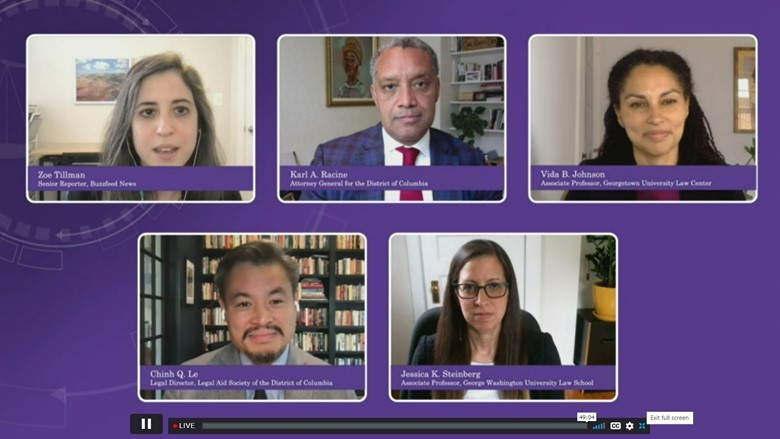 In a plenary discussion moderated by Zoe Tillman of BuzzFeed News, panelists looked at how the pandemic has negatively impacted lower-income D.C. residents, primarily people of color, in terms of unemployment and possible loss of housing.
Chinh Q. Le, legal director of the Legal Aid Society of the District of Columbia, pointed out that over the past 10 or 15 years, the District has lost half of its affordable housing stock and that the D.C. Housing Authority's centralized waiting list for subsidized housing has been closed for seven years.
During the pandemic, nearly 200,000 District residents have lost their employment income, according to Le. "That is four to five times the number of applications for unemployment insurance before the pandemic," Le said. "And as a result, 16 percent of District tenants right now are not current in their rent payments. As of March 2021, 18 percent are reporting that they have little or no confidence in their ability to pay rent going forward."
D.C. Attorney General Karl A. Racine said the sudden loss of income has also triggered increased incidence of domestic violence and child neglect. "We know that schools and other activities offer opportunities for adults to have eyes on kids," oftentimes triggering an inquiry into whether a child is being abused or neglected, Racine said. "We've not had those kinds of eyes and ears on kids during this pandemic."
At Georgetown University Law Center's Criminal Justice Clinic, associate professor Vida Johnson said that one of their major concerns for their clients is access to quality health care. Johnson said most of the clinic's clients are in their 40s and up and had been incarcerated for a significant period of time.
The Criminal Justice Clinic partnered with the university's medical students to review some of the Bureau of Prisons' medical records, which led to the discovery of lapses in medical care, including individuals being prescribed the wrong medication, Johnson said.
"We've heard horror stories of people [during[ their one-hour of recreation time waiting in line to get their medication and having to return to their cells [empty-handed]. And of course, this is all happening against the backdrop of COVID-19," Johnson said, adding that people in prison are five times more likely to contract the virus than the rest of the population.
Jessica K. Steinberg, associate professor of clinical law at George Washington University Law School and advocate for prisoners' rights, also talked about the grim conditions of incarcerated individuals. "Many of them spend weeks or even months in solitary conditions, locked in their cells 23 or 24 hours a day," she said. "They're permitted to shower maybe only twice a week. They may have no contact with family members for weeks or months at a time."
Steinberg advocated for compassionate release for vulnerable individuals who are not considered threats to society. "The new compassionate release program in the District is working to release elderly and sick and COVID-vulnerable prisoners," she said. "That is a big step in the right direction."
Rise of Fraud in Service of Process
One of the sessions on day one of the Judicial & Bar Conference focused on rampant fraud in service of process in eviction cases, resulting in default judgments that disproportionately affect low-income communities of color.
Josh Kaplan, one of the panelists, is an investigative journalist who conducted a nine-month research for his October 2020 DCist article that exposed discrepancies in summonses and affidavits of service filed in eviction cases in D.C. Superior Court. After reviewing more than 13,000 pages of court documents, Kaplan discovered more than 600 cases where two process servers filed suspicious affidavits that, "if brought to a judge's attention, would likely result in the eviction case being dismissed," he wrote.
Adrian Gottshall, managing attorney at the D.C. Bar Pro Bono Center, said the scam is called "sewer service," which dates back several decades. A Washington Post story in 1973 by B. D. Colen found that after review of affidavits in approximately 1,050 cases, there were 21 instances where process servers claimed to be in multiple places at once.
"So that begs the question: What is the difference between 1973 and the fraud that was discovered then and 2021?" Gottshall asked. "I think the answer to that question is technology. We now have the technology to ensure that we don't have to rely on the honor system with the process."
John O'Connor, a partner at Steptoe & Johnson LLP and a pro bono attorney handling landlord and tenant cases, said his firm found similar irregularities after reviewing affidavits processed by Metropolitan Process Services in more 1,500 landlord and tenant cases in 2019.
"The affidavits were all the same in that the signature was exactly the same in the exact same spot on the form," O'Connor said. "And the notary signature was exactly the same on the exact same spot. And the notary stamp was in the exact same spot with the exact same smudge on the same corner of the stamp." Steptoe filed suit in February 2020 against Metropolitan Process Services on behalf of pro bono clients.
Gabriella Lewis-White, who supervises the Pro Bono Center's Landlord Tenant Resource Center, said many of the center's clients, after being shown their purported duly signed affidavits of service, were not aware they were served with a summons. The District's Fairness in Renting Emergency Amendment Act of 2020 requires photographic evidence of the service, Lewis-White said, and service must be accomplished with a person 18 years or older who is not a party to the case.
Brandon Snesko, president of Same Day Process Service, believes GPS technology "can be and should be one solution to prevent fraud going forward." Snesko said his company was the first among process servers to adopt it in Washington, D.C., partnering with a New York-based software company to develop a mobile app to document his process services to protect his company, build trust with his clients, and market and expand his business.
Harnessing GPS technology in service of process results in greater transparency and accountability, Snesko said.