Citing Growing Need for Pro Bono Help, Judges Issue Call to Action to D.C. Attorneys
June 15, 2022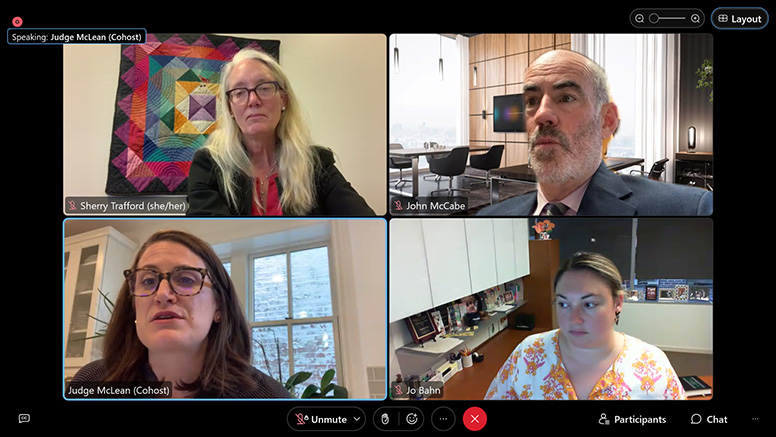 On June 14 the D.C. Superior Court's Committee on Pro Bono and Affordable Counsel held a virtual event to discuss the District's current pro bono needs and encourage attorneys to consider the many ways they can assist the court and the community.
"As you certainly know, and as we all learned in law school, criminal defendants are entitled to representation regardless of their financial situation. However, in many other areas of the court — including many civil cases, family court cases, domestic violence cases — the overwhelming majority of litigants are not represented," said Judge John McCabe, co-chair of the committee.
Citing D.C. Access to Justice Commission figures, McCabe said that in landlord-tenant court, 88 percent of those facing eviction are not represented by counsel, while 95 percent of the landlords are. In domestic violence cases, 88 percent of petitioners do not have counsel. In 93 percent of divorce and child custody cases, respondents appear pro se, and 97 percent of respondents in paternity and child support cases are self-represented.
There are many other areas in which District residents are pursuing justice without the benefit of counsel, McCabe said, and the lack of representation impacts the ability of judges to reach the right outcome and resolve court backlogs.
Magistrate Judge Sherry Trafford, who presides over some of the most high-traffic courtrooms in D.C. Superior Court, described efforts at the court to better facilitate pro bono assistance, such as the retention of COVID-related remote hearing procedures and staggered hearing calendars, making courtroom appearance more convenient. Also, judges have undergone training to ensure that pro bono attorneys receive additional consideration regarding calendaring and deadlines, keeping in mind that lawyers may be working outside of their normal practice areas.
"The court is engaging in efforts to ensure that this is an experience that is rewarding and valuable to you," she said.
Trafford added that funding has been approved for the appointment of a pro bono supervisor who will be shared between D.C. Superior Court and the Court of Appeals. Although this person will not supervise or direct pro bono attorneys, they will be able to assist the courts in connecting litigants with pro bono volunteers and resources, as well as provide ongoing training to judges and court staff.
The Superior Court's website also includes documents to help attorneys assess the kind of commitment and experience they are looking for and provides a list of nonprofit organizations that can help facilitate pro bono help.
"We know that it's daunting to get involved," said Judge Carmen Guerricagoitia McLean, addressing attorneys who are considering pro bono representation. "We want to make it easier for you."
McLean, who serves as committee co-chair, devoted a significant portion of her practice to pro bono prior to taking the bench. "Pro bono work is a particular passion of mine," she said, noting that nearly 10 percent of her hours during her 18-year employment at Jones Day was spent providing pro bono services.
McLean recounted two specific instances in which the involvement of a pro bono attorney made a significant difference in the outcome of the cases. One involved a landlord's unconscionable neglect of a District resident's home, and the other a child custody decision regarding a woman with serious mental health issues, spotlighting how earlier court decisions in similar cases, absent the involvement of pro bono counsel, failed to protect the safety of the litigants involved.
Legal services organizations play a key role in bridging the access to justice gap, McLean said, because they provide trainings and resources to prepare attorneys to effectively provide pro bono help in areas outside of their expertise.
"We are so lucky to have such amazing organizations in the District, so we're trying to … direct you to the organizations that will then be able to support you in your pro bono work," she said. "They'll provide training, they'll provide mentorship, they'll provide sample pleadings — just a lot of things to make this more accessible to you."