Join the Pro Bono Center in Answering the Call to Help
September 17, 2021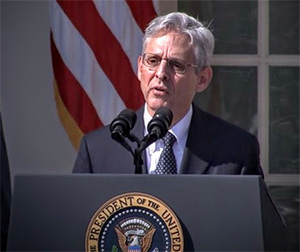 On August 30, 2021, Attorney General Merrick Garland called upon the legal community to help address the housing and evictions crisis facing our country.
Citing a recent Census Bureau survey estimating that that six million American households are behind on rental payments, and that about half of those believe they will be evicted, the Attorney General said, "The impact of evictions on these families and on exacerbating the pandemic would be devastating."
"The legal profession is well-positioned to provide support for tenants, landlords, and courts during this crisis," Garland said. "Ensuring that our justice system delivers outcomes that are fair and accessible to all without regard to wealth or status is one of the highest ideals of our profession."
According to the Census Bureau, more than 14,000 D.C. renters are very likely or somewhat likely to be evicted in the next two months. Although Mayor Muriel Bowser and the Council of the District of Columbia enacted emergency legislation to shield D.C. residents from eviction during the pandemic, COVID-19 protections are ending, and the federal eviction moratorium is no longer in effect after the U.S. Supreme Court struck it down.
Tenants who have fallen behind on rent or utilities during the pandemic can apply for federal and local emergency rental assistance funds through the Stronger Together by Assisting You (STAY DC) program. Despite STAY DC funding, some tenants will still face eviction proceedings. D.C.'s eviction law includes additional protections for tenants, including the requirement that landlords offer or negotiate a payment plan for past due rent. However, many tenants are not aware of these protections and cannot assert their rights without the assistance of counsel.
"Evictions are traumatic and extremely destabilizing for families and children," said Gabriella Lewis-White, the Pro Bono Center's Housing Managing Attorney. "Pro bono attorneys will be essential in helping D.C. residents avoid eviction in the coming months. However, volunteers can also help people now by representing them in matters that will improve their living conditions, seal their old eviction records and preserve their affordable housing."
The Pro Bono Center stands ready to help D.C. Bar members and law firms answer the Attorney General's call to help. Attorneys interested in volunteering can get training now. Beginning on October 7, the Pro Bono Center will offer a free, virtual, five-part training series, "Landlord Tenant Practice in D.C.," which will emphasize education about evictions in the wake of the pandemic. These training sessions will equip attorneys who have little or no experience in landlord/tenant matters to competently and comfortably represent pro bono clients.