Profiles
Magistrate Judge Tyrona De Witt Stays Grounded Despite Weight of Judicial Responsibility
September 27, 2022
Appointed to the Superior Court of the District of Columbia by former chief judge Robert Morin in 2016,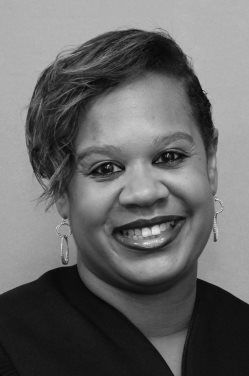 Magistrate Judge Tyrona De Witt has served as the presiding judge over the Family Treatment Court and the Juvenile Behavioral Diversion Program. She has been certified as a Child Welfare Law Specialist in the District of Columbia. Here, De Witt talks about her path to the bench and how she stays grounded in the emotionally charged, high-stakes area of family law.
Where are you from, and what led you to practice in the District of Columbia?
I was born and raised in South Jersey. I relocated to D.C. for law school and originally intended to transfer to a school in Philadelphia but decided to finish my education at UDC. By the time I graduated, I felt like D.C. had become home and I wasn't interested in moving again.
What type of law did you practice before becoming magistrate judge?
Prior to my appointment in 2016, I spent 12 years as an assistant attorney general with the Office of the Attorney General for the District of Columbia, working in the Family Services Division. During that time, I primarily addressed issues related to the abuse and neglect of children.
What advice would you give attorneys looking to become a judge?
There is no one path to the bench. Judges come from various areas of practice. As such, I suggest that you work in any and all areas of the law that interest you. While exploring your interests and building your skills, it's equally important to build a positive reputation among the bench and the bar. Most judges are smart and have likely excelled in their practice, but how your colleagues and your adversaries describe your character and temperament is likely how you will be viewed once you become a judge. Such positive characteristics are likely to garner you support during the process.
What factors do you use to render an unbiased decision in a case?
I focus on the facts that are in front of me and do not allow emotion to dictate the outcome of a case. However, I try never to forget that the decisions I make impact individual lives. So I don't emotionally detach — I just don't allow it to stray me away from what the law and the rules say on a particular topic.
How do you maintain peace of mind after a particularly difficult case?
First, I pray regularly before I take the bench. Whenever I have had a particularly difficult case, I often go over the events of the hearing in my mind. I assess whether I could have done anything differently. Did I take time to thoughtfully consider the information presented before me, and did I make the best decision I could with the information I had? If I've made the best decision I could with the information I had, then I just have to remind myself of that whenever the case starts to creep back into my head so as not to second guess myself. Making decisions that affect the lives of other people isn't an easy thing to do, but you have to let it go or it will wear on you. You can't sustain longevity as a judge or even as a lawyer if you carry the weight of the job with you every day.
What are some of your hobbies?
I actually don't really have any hobbies, but to relax and decompress from work, I love watching horror movies. I make time for self-care — although maybe not as often as I should. I ride my bike and take walks outside just to spend time alone with my thoughts. I take at least a week off at a minimum twice per year, and I spend time with my family and friends.
What advice would you give to law students interested in becoming law clerks?
Strengthen you writing skills, including being a part of law review. Maintain good grades and seek out internships with judges. Get a first-hand view of what is required of a law clerk by working with one.
Where do you see your legal career in five years?
I expect to still be sitting as an active judge in D.C. Superior Court. I would also like to be an adjunct professor, teaching a class, preferably at my law school.
How did the D.C. Bar prepare you to become a member of the bench?
The D.C. Bar offers a variety of resources that are helpful to both the inexperienced attorney as well as the seasoned litigator. These resources assist in strengthening a lawyer's knowledge in the practice of law. CLEs are just one example of a resource that provides practicing attorneys with information to maintain their competency in their specific area of practice.
What is the best advice you could offer attorneys who appear before the court?
Be prepared. Know the rules, statutes, and case law you are relying on to persuade the court and be able to reference your authority if necessary. Remember to give deference to the bench, but this doesn't mean that you don't make the arguments you need to make in order to make your record. Also, remember that nothing a judge says or does is personal.