Eat Well, Do Justice! Cook-Off Raises Nearly $350K for Tzedek DC
September 21, 2023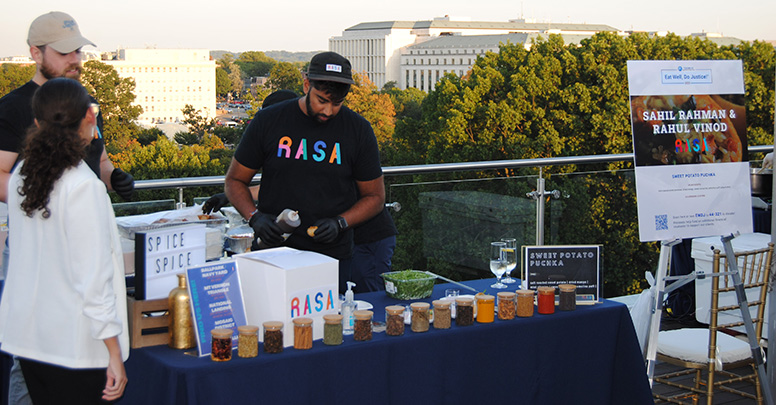 Sahil Rahman and Rahul Vinod, owners of the fast-casual Indian restaurant RASA, took first place in Tzedek DC's seventh annual Eat Well, Do Justice! fundraiser on September 18. This year's event, a stuffed foods competition, raised more than $348,000 (and counting) to support the nonprofit organization's mission to address debt-related issues confronting District residents through the provision of free legal services, policy advocacy, outreach, and training.
The winners' sweet potato puchka, featuring sweet potato, dried mango, and sweet tamarind in a semolina puff with an accompanying kokum shot, drew high praise for its complex flavors and presentation.
Other contestants included Maurice Dixon, founder of Reese's Culinary 210, who created a sweet potato soul roll. "Soul food is all about comfort," Dixon said as he served portions of the deep-fried delicacy with a mayonnaise-based sauce balancing the sweetness of honey with the kick of a light sriracha.
Jerome Grant of Mahal Afro-Filipino BBQ presented lumpia that drew praise for its use of local mushrooms and homemade duck sauce, while Katherine Thompson of Thompson Italian served sweet corn tortellini with Aleppo pepper butter and chives. Judges lauded the high quality of the handmade pasta.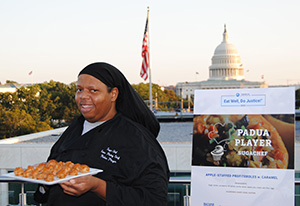 Padua Player, also known as SugaChef, delighted with apple-stuffed profiteroles drizzled in caramel. Judges remarked on how challenging it is to produce the delicate pastry puffs, commending Player on his flawless execution of a dessert classic.
Tzedek DC Director-Counsel Ariel Levinson-Waldman said that Eat Well, Do Justice! was inspired by the kugel-cooking competition held at a colleague's synagogue. Drawing on the Jewish cultural values of good cooking and philanthropy, the event has become a significant opportunity to support the organization's work on behalf of District residents experiencing debt-related issues. Tzedek DC has represented more than 3,000 individuals in debt-related matters, and its policy and advocacy work has impacted thousands more, he said.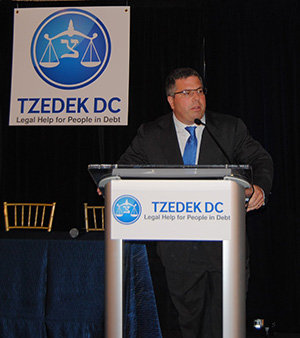 Levinson-Waldman framed the economic issues his organization addresses as connected to the work of civil rights activists. He recalled the words of Rabbi Abraham Joshua Heschel, who accompanied Martin Luther King Jr. on the historic march from Selma to Montgomery, Alabama, and whose picture hangs in Tzedek DC's offices.
"When they returned from the march, Rabbi Herschel was asked, 'Did you have time to pray while you were in Selma?' Rabbi Heschel responded famously, 'I felt my feet were praying,'" Levinson-Waldman told attendees. "Thank you for being with us this high holiday season, to pray with our feet, and a little bit with our stomachs."
"In our work, in our mission at Tzedek DC, we and the D.C. residents with lower incomes who we serve are up against enormous challenges," Levinson-Waldman said. "After so much past, and in many ways, continuing structural racism and inequity, the racial wealth disparities in our present D.C. community are stark."
"Racial disparities are evident in our debt collection rate, in our debt collection courts as well, where our residents of color face debt collection rates nearly four times as often as white residents. There are also continuing unacceptable parallels in our unemployment rates," Levinson-Waldman continued. "Unemployment rates are seven times higher for D.C. Black residents than for white residents. This is the worst unemployment divide by race in the United States."
The event, held on the rooftop of the Capitol View at 400, drew a sizeable crowd that included many familiar faces. June B. Kress, member of the D.C. Bar Board of Governors, serves on Tzedek DC's advisory council. Also present were D.C. Bar Pro Bono Center Executive Director Kelli Neptune, former D.C. Bar president Patrick McGlone, D.C. Attorney General Brian Schwalb, and D.C. Councilmembers Phil Mendelson, Robert White Jr., and Matt Frumin.
Judges of the event included co-winners of the 2022 competition, Soup Up's Donna Henry and Kosher Sustenance's Doron Azrad and Rachell Bitton.