Chad T. Sarchio Installed as 50th President of the D.C. Bar
June 25, 2021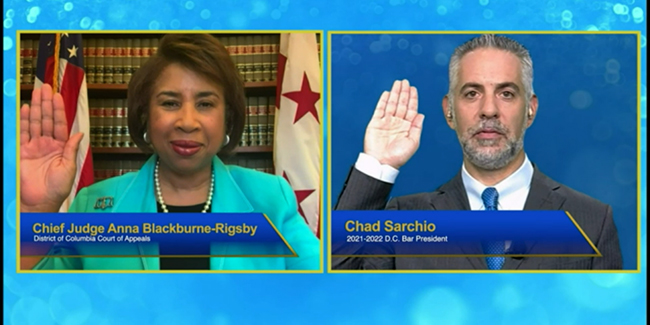 A virtual audience of more than 350 attended the D.C. Bar's 2021 Celebration of Leadership on June 24, featuring the formal swearing in of Chad T. Sarchio as the Bar's 50th president and the presentation of awards to outstanding members of the Bar and the legal community.
Geoffrey M. Klineberg, a partner at Kellogg, Hansen, Todd, Figel & Frederick, P.L.L.C., delivered his final remarks as Bar president before passing the gavel of leadership to Sarchio. While his term was marked by unprecedented challenges posed by the COVID-19 pandemic, Klineberg applauded the Bar's leadership, staff, and volunteers for ensuring continuity of service throughout the crisis.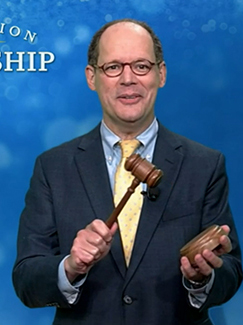 "The Bar's Continuing Legal Education Program conducted more than 220 live accredited courses online using Zoom and other platforms, and of those online courses, 80 were completely new, offering programming on topics relating to COVID, vaccines, and returning to the workplace. The Pro Bono Center continued to conduct its monthly advice and referral clinics, helping hundreds of clients with discrete legal problems over the phone," Klineberg said. The virtual delivery of services allowed for more opportunities for attorneys to receive training and connect with resources, he added.
"It's been a strange and challenging year, but it's also been wonderful. I want to thank our CEO, Bob Spagnoletti, and the entire D.C. Bar staff for doing all of the work that I can now take credit for," he said jokingly.
Klineberg, however, gently reminded attendees that incredible challenges remain as the country slowly emerges from the crisis. "As we all know, there is an enormous backlog of cases waiting to be processed as our courts return to more normal operations, and the D.C. Bar Pro Bono Center will continue to play its critical role in providing opportunities and support for lawyers interested in serving their neighbors in need," he said.
Beyond the challenges posed by the pandemic, Klineberg also recounted moments during his presidency when the D.C. Bar spoke out to denounce violence, discrimination, and assaults on our democratic institutions. "Each of these occasions presented the Bar with an opportunity to reconfirm our commitment as lawyers to pursue justice and further the rule of law," Klineberg said.
Passing the Gavel
Prior to taking his oath as Bar president, Sarchio was introduced by longtime friends and colleagues Brad Weinsheimer, associate deputy attorney general at the U.S. Department of Justice, and DeMaurice Smith, executive director of the NFL Players Association. Weinsheimer described Sarchio as a "lifelong learner who has excelled in everything he's done, from rising to a lieutenant colonel in the Army Reserve to his position now as the chief of staff to the administrator at the [Drug Enforcement Administration]."
Smith echoed Weinsheimer's comments, remarking on Sarchio's strong values and commitment. "Now, today, stepping into the role as president of the D.C. Bar, all of us benefit from his dedication to duty, to honor, and to service," he said.
After being sworn in by D.C. Court of Appeals Chief Judge Anna Blackburne-Rigsby, Sarchio described his initiatives for the coming year, including careful planning for the return of the Bar's in-person services. "I have every confidence that in 2021 our Bar will retain advances, remediate disparities, build institutional resilience, and provide even more value than ever before," he said.
Sarchio also called attention to the present and growing need for pro bono services in the District. "We genuinely expect the demand for pro bono services to explode," he said. "It will take new solutions and redoubled commitments to meet these needs." He called upon the Bar's membership to reevaluate and expand their contributions to making access to justice available for all.
Finally, Sarchio acknowledged the difficulties faced by legal professionals during the pandemic and the incredible toll on people's health and well-being. "I hope to help galvanize and expand upon the impressive array of crucial programs and services that the Bar offers to members who are themselves in need or in crisis," Sarchio said, adding that he has already begun discussions regarding how the notion of attorney wellness can be integrated into the concept of competency to practice law. Sarchio said the Bar must continue its efforts to destigmatize, legitimize, and routinize issues surrounding lawyer well-being.
Honoring Outstanding Contributions
The Celebration of Leadership also recognized the extraordinary accomplishments and contributions of Bar members to the community.
This year's event marked the first time that the Beatrice Rosenberg Award for Excellence in Government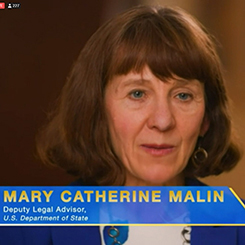 Service was given to two individuals. The award, bestowed upon those with a demonstrated commitment to public service through their work in the government, went to Mary Catherine Malin, deputy legal adviser at the U.S. Department of State, and posthumously to George Valentine, who served as deputy director of the D.C. Mayor's Office of Legal Counsel. Valentine died of COVID-19 in March 2020.
Malin was honored for her 35-year commitment to public service, her influence as a pioneering force in international law, her work as a professor, and her contributions to the legal community. Malin thanked her colleagues for their efforts and said the award "affirms the legal community's support for the essential work of public servants."
Samuel Kaplan, partner at Boies Schiller Flexner LLP, accepted the Rosenberg Award on behalf of Valentine and paid tribute to the latter's service. "He served the District through critical and complicated periods in its history," Kaplan said. "Our system and the public depend upon having attorneys with integrity and ability, who can be counted on to ensure that the public's interests are protected. George Valentine embodied those qualities, was the quintessential public servant. We will miss him deeply and so will the District that he loved and served for so long and left too soon."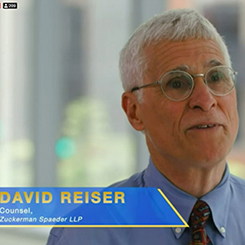 The William J. Brennan Jr. Award for excellence, achievement, and commitment to civil rights and individual liberties was presented to David Reiser of Zuckerman Spaeder LLP. As with many others honored at the event, Reiser chose to direct attention away from his own accomplishments to highlight the outstanding work of others in the legal community.
Reiser honored Barbara McDowell, founding director of the Appellate Advocacy Project of the Legal Aid Society of the District of Columbia. McDowell passed away in 2009, and the project has been renamed in her honor.
"To join forces with Barbara was to believe that it was always possible to change minds with just a little more effort and hard thinking . . . to bend the curve toward justice in real time," said Reiser, who has made significant contributions toward the establishment, development, and expansion of the Appellate Advocacy Project.
Daniel Cantor, partner at Arnold & Porter, received the Laura N. Rinaldi Pro Bono Lawyer of the Year Award, while Covington & Burling LLP, whose attorneys committed an impressive 9 percent of their billable hours over the past year to pro bono activities, was honored as Pro Bono Law Firm of the Year.
The Washington Council of Lawyers won the Voluntary Bar Association of the Year award, while the Frederick B. Abramson Award went to the D.C. Bar's Information Technology team for creating the new D.C. Bar website and e-commerce catalog. The D.C. Bar Corporation, Finance and Securities Law Community was named Community of the Year.
The Celebration of Leadership was sponsored by Zuckerman Spaeder with support from Cornerstone Research, NetDocuments, and Western Union Business Solutions. The celebration was also made possible by efforts of many host committee members.