Search
Search Disciplinary Decisions by
Attorney Name
Search Disciplinary Decisions by
Date Range
Search Disciplinary Decisions by
Keyword
Evan Krame
Docket No. 16-BD-014
Decisions
DCCA Order (October 15, 2019)
Summary: In re Evan J. Krame. Bar No. 370772. October 15, 2019. Krame was suspended on an interim basis pursuant to D.C. Bar R. XI, § 9(g), pending final action on the Board on Professional Responsibility's July 31, 2019, recommendation of disbarment.
Board Report and Orders (July 31, 2019)
Summary: In re Evan J. Krame. Bar No. 370772. July 31, 2019. The Board on Professional Responsibility recommended that the D.C. Court of Appeals disbar Krame for his negligent misappropriations, deliberate violations of court orders to advance his own interests at client's expense, and flagrant dishonesty to the courts and that, as a condition of reinstatement, Krame be required to make restitution of $245 to one trust and $615 to a second trust (the amounts paid by those trusts as a result of his false time entries), plus interest at the legal rate, and that he make restitution to a third trust in the form of the interest due on the $6,835.38 returned to the third trust on February 26, 2003. The Board concluded that Krame committed two violations of Rule 1.15(a) (negligent misappropriation), two violations of Rule 3.4(c) (knowing violation of an obligation to a tribunal), six violations of Rules 3.3(a)(1) (false statement to a tribunal) and 8.4(c) (dishonesty), four violations of Rule 8.4(d) (serious interference with the administration of justice), and two violations of Rule 1.5(a) (unreasonable fee). Krame served as the court-appointed trustee of Special Needs Trusts. A Special Needs Trust holds the assets of a disabled person without jeopardizing his or her receipt of governmental health and welfare benefits. Each of the three trusts at issue in this case was funded by a large civil settlement obtained on behalf of a severely disabled minor. This matter arose primarily out of Krame's dogged claim to Probate Division judges that his compensation as trustee should be set annually as 1 percent of a trust's assets, and that he not be required to account for the time he spent acting as trustee. Krame also sought to charge his trust clients for litigation costs and the time he spent pursuing his compensation argument. The Probate Division and the Court of Appeals uniformly rejected his claims.
To search for additional disciplinary cases involving this attorney, click here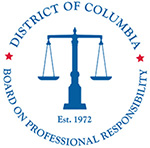 Board on Professional Responsibility
430 E Street NW
Suite 138
Washington, DC 20001
Phone: 202-638-4290
Fax: 202-638-4704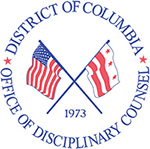 Office of Disciplinary Counsel
District of Columbia Court of Appeals
515 5th Street, NW
Building A, Suite 117, Washington, DC 20001
Phone: 202-638-1501
Fax: 202-638-0862