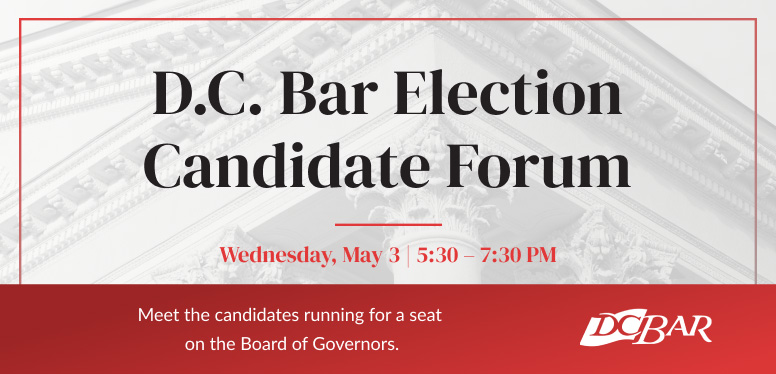 Wednesday, May 3
5:30 – 7:30 p.m.
D.C. Bar Headquarters
Meet the candidates running in the 2023 D.C. Bar Elections! Join us at the D.C. Bar headquarters for an interactive forum with D.C. Bar leadership and the candidates running for a seat on the D.C. Bar Board of Governors. Network with fellow Bar members and make your voice heard among current and future leaders.
Remarks from:
Robert Spagnoletti
Chief Executive Officer, District of Columbia Bar

Charles R. Lowery Jr., D.C. Bar President-Elect
National Housing Conference

Alexander L. Reid, President-Elect Candidate
Baker & Hostetler LLP

Shaun M. Snyder, President-Elect Candidate
National Association of State Treasurers
Refreshments will be provided.
All visitors to the D.C. Bar headquarters must comply with our visitor entry policy.
Learn more about the 2023 D.C. Bar elections.